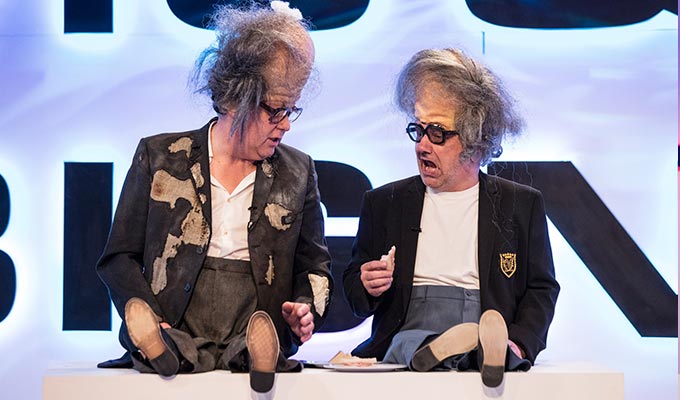 Vic and Bob's Big Night Out
Vic Reeves and Bob Mortimer look like they are men with nothing to prove any more, and that's wonderfully liberating.
Their revived Big Night Out – back for a second series on BBC Four, tonight – is merely an excuse for two friends of more than 30 years standing to muck about and make each other laugh. That they so often do is joyous, and beams with a sincerity you don't always get with more polished shows. For if their studio skits seem under-rehearsed, that's part of the fun.
Away from the scrutiny of the main channels, they seem to have been told just 'do what you do' and fans will find it. Indeed, viewers who've stuck with them since the 1990s will feel like they are reuniting with old friends, too, greeting the likes of Judge Nutmeg and his glorious Wheel Of Justice with the required call-and-response. Talking of old friends, Bob taking a tumble with an 'Oh Vic, I've fallen' is always a delight.
But there's plenty of fresh oddness, whether new takes on previous characters or wholly new ideas. One of the most stupidly hilarious sketches of the opening episodes sees the pair back as ghost-hunters, investigating a social club haunted by spirits of bygone pop stars.
Vintage chart music is also called into play as Mortimer serves up his 1980s synth pop act, accompanied by Reeves on a melodica powered by a giant can of economy cooking oil that requires a crank start. It's a rare moment when their free hand tips into self-indulgence, overloading the surrealism, but even so their Morecambe-and-Wise dynamic offers good cheer.
That relationship makes the desk segments zing, along with their gaggy scripts and preposterous slapstick – now, as in the last series, with the added impact of visual effects that can bring Reeves' Dali-esque artistic exaggerations to life. Talking of which, there's a great animation of superheroes on the toilet.
Also back are the bizarre adverts for even more bizarre products – such as an unlikely Jeremy Paxman, wonderfully realised in 3D caricature, recording a compilation album, their lively theme tune You Can Do It, and sidekick Vaun Earl Norman as eye-candy.
After reinventing the format when they first created Big Night Out in the 1990s, they see no reason to do so again. Yet this brand of gleefully silly surrealism remains a uniquely funny part of British TV, and its return is most welcome.
• Vic and Bob's Big Night Out is on BBC Four at 10pm tonight. The pair talk about their show and their career here.
Review date: 27 Nov 2019
Reviewed by: Steve Bennett
Recent Reviews
What do you think?