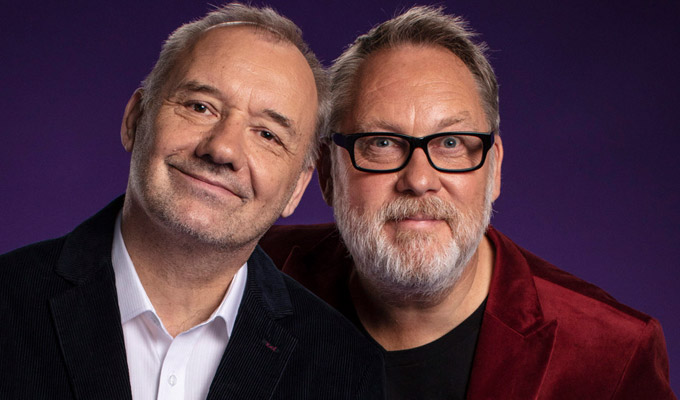 David Walliams was a very strange fella...
Getting Vic Reeves and Bob Mortimer to interview each other to promote the return of Big Night Out was never going to bring the forensic scrutiny of an Emily Maitlis or a Julie Etchingham.
'Have you ever damaged your phone in unusual circumstances,' was Bob's first question. 'Eg: it's fallen on a very hard lizard or it's melted during prayer.'
Turns out there was an anal-based incident on a ridge which fitted the bill.
Thereafter, further lines of questioning included:
'Is it inappropriate to have a comforting funeral candle scened with bubblegum?'
'On a cross-Channel ferry do you mainly stare at the funnel or the railings?
'Have you ever rented out a room for men to sleep?'
'Have you ever been to Peterborough - on your own?'
'Do you wish that Sports Direct sold food as well?'
To that last question Reeves – speaking under his real name of Jim Moir – opined 'I'd love to have a sneaker which has an interior compartment which contains hummus or taramasalata or any of the Greek dips.'
Yet at a preview event in London last night to mark the return of their show to BBC Four next week, there was some insight into the pair's more than 35-year career as they shared archive pictures – as well as some indiscreet celebrity gossip.
DAVID WALLIAMS
Vic recalled the future Britain's Got Talent judge loitering on set while they were filming their sketches. 'He used to hang around everywhere. You'd look in the corner and there was Walliams.'
'It's because we got Matt Lucas on when the was 17 and he said "Can I bring my mate along?" And he used to hang around in corners.
'One time – and I do remember this – when we were doing Randall & Hopkirk, we filmed a scene for an hour and a half and then all of a sudden Walliams came out of a wardrobe. He'd been hiding in there. Very strange fella'
'There's some truth in that,' Mortimer added.
PAUL YOUNG
After being shown a photo of himself in Jools Holland's office in Greenwich, South London, where they used to write Big Night Out, Bob recalled: 'We had an English Gentlemen's Motorcycle club. You had to have an English motorcycle and dress like an English gentleman.
'Paul Young, the singer of Wherever I Lay My Hat, he asked if he could join. He came in wearing those leather trousers with tassels all down the side.'
'And he drove a Harley-Davidson,' Vic added.
Bob continued: 'Me, you and Jools went into a room while he waited outside – and we decided he couldn't join.'
Vic explained they based their rules on the alleged Hell's Angels initiation ceremony in which new members had to bite the head off a chicken. 'Our rules were that you had to present a chicken dinner to every guest,' he said. 'And also whenever you pass a lady you raise your helmet.'
DEREK JACOBI
Bob recalled rather a bruising first encounter with the acting legend.
'We were doing Randall and Hopkirk, and I hadn't met I met him.
'He was called something like let's say, Professor Whittingshield. They went, "action". And I said, "Hello, Professor Whislingshield" and got it wrong.
'And he went, "Oh you cunt!"' – with the word intoned violently.
Vic also recalled a scene from the same episode when a hefty guard had to punch Bob, who was supposed to move out of the way. But he didn't, and the actor knocked him unconscious 'for about five minutes'.
TOM BAKER
Vic recalled a gruelling shoot with the former Dr Who in a studio that was a roasting 140F. 'It was ridiculous, but Tom said, "Jim at the end of this I'm going to make a Tom Baker Special".'
Which turned out to be a gin and tonic. Or rather 'It was a bucket full of gin and he threw a lemon in it. We actually drank it.'
The pair lived relatively close to each other in Kent and Vic, a regular house guest, eventually bought Baker's house off him (though he didn't disclose whether it was bigger on the inside…)
Next to it was a churchyard and Vic recalled: 'He already had his grave there, and it said Tom Baker 1934-' ... but with no end date.
'He's the greatest bloke,' Vic concluded.
RECALLING THEIR OWN WORK
The audience at the event at the British Film Institute were shown several pictures from Reeves' own archive – including an early incarnation of the oddly attired character Tom Fun.
'I'm going to say this is 1992,' Vuc explained. 'Those were fantastic days of wardrobe and make-up staff who would say, "we don't know what you want to do, and you obviously don't, here's a big bag of stuff" and then we'd come out looking like that and then develop the characters from that.'
Another picture showed Reeves on stage at the Regent's Park Open Air Theatre in London with a badly-made puppet with the face of Nick Kamen, the model who was briefly famous in 1985 for a steamy ad for Levi's jeans set in a launderette.
'These puppets were made by me,' he said. 'As you can tell, not by an expert.
'This is long before the Big Night Out went on TV,' Vic recalled. 'I got commissioned – commissioned! – I got asked to do a concert in Regent's Park with Suzanne Vega.
'I turned up and they were horrible people. Suzanne Vega and all her crew were all having a nice dinner. I came along and said "I'm the warm-up turn" and they took me to what was pretty much a woodshed that had shovels in it and told to wait. I said, "can I have a drink? and someone gave me a can of lager when all the others were having this nice food.'
And it was no better when he got to the stage, 'They thought I was going to be a stand-up and it was a lot more than that. No one liked it; everyone hated every single moment.'
That opinion was also shared by some reviewers, and the pair shared a write-up they received of a night in Malcolm Hardee's notorious Tunnel Club in the 1980s which described them as 'riotously unfunny'.
It described snootily a sketch in which 'the area's least-gifted crab gave a lecture on the forests of Scotland' but noted: 'The audience was deeply impressed by this and clamoured for the next act.
'But the Walker Brothers turned out to be pantomime bears leaping around to music. Their antics included a simulated sex act.'
Another picture showed Reeves as Tappy Lappy, a very early character from the days he performed Big Night Out at Goldsmiths Tavern in South London.
Vic and his pal Johnny Irvine had cut out portraits of Bryan Ferry from the front of Face magazine and taped them to their own heads, preempting the cardboard face masks that are now in joke shops everywhere.
'Bob turned up that night to see Tappy Lappy,' Vic recalled. 'We sellotaped wooden planks to our feet and had tap dancing sound effects made by dropping cutlery and cans in our house.'
Turning to his friend, he said: 'You saw that and thought, "I want to be part of that.".'
Then Bob said: 'You'll never know, Jim. It was amazing to come to that as a stranger and know there was nothing like that in the world.'
Thirty-five years on, and there still isn't, not quite…
• Vic & Bob's Big Night Out returns to BBC Four at 10pm next Wednesday.
Published: 21 Nov 2019
What do you think?