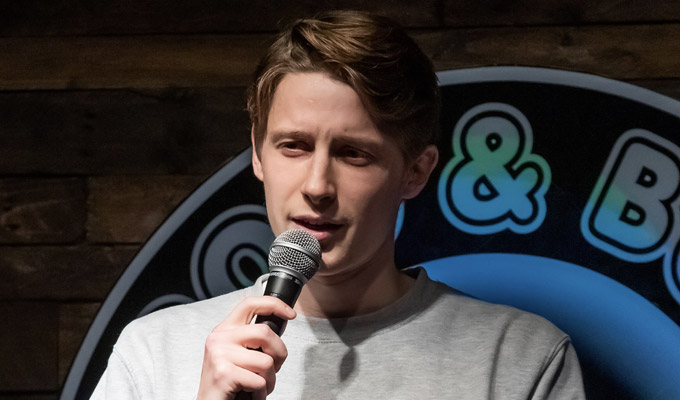 Beat The Frog World Series Final 2019
It probably seemed tongue in cheek when Manchester's Frog and Bucket club decided to name its gong show champion-of-champions nights The World Series. But 16 years on, and it's a far more international affair than the US baseball contest that shares its name, with representatives from Lithuania, Sudan, Taiwan, Australia and Canada.
But first, all the exotic excitement of Salford, courtesy of Karl Porter. With an animated performance, full of deft act-outs, he skilfully brings to life the characters he encounters there to life, from personal trainers to the quiet guys at parties
His inexperience shows in a lack of consistency in the gag-writing and fluidity in linking the sections, but once he finds more focus, his spirited delivery will elevate it. A very promising act.
Sally Firth – the alter-ego of Sian Doughty – is the Theresa May of comedy, a slight middle-aged woman speaking with an uncertain deadpan but steely in her resolve. In fact, it turns out that behind the mild-mannered exterior is the cold soul of a serial killer, which only reinforces the May analogy.
The 'psycho woman' persona is slightly over-used in comedy, and Doughty doesn't add a great deal. Indeed her 'route to a man's heart' line is a less succinct version of an ancient Jo Brand gag. But she's a better joke writer than that example suggests and keeps a calm control of the room despite her low energy, without entirely winning then over.
There's something of a Richard Ayoade vibe to Toussaint Douglass, stiffly awkward and on a different plane from rest of the world. He creates vivid, slightly absurd, images of his life in Lewisham and as a victim of childhood name-calling, then ramps up the social awkwardness with a word-association game that playfully puts an audience member on the spot.
There's an undercurrent of racial politics, but it's skilfully concealed beneath a charming quirkiness. One of the best and most distinctive acts on the night, he rightly took home the kudos of the 'panel prize' to reflect the promise he clearly has.
Amy Webster, on the other hand, was a lot more predictable: girl with a ukulele delivering a jaunty ditty about bad sex, received politely but with not a lot of laughs. She proves herself to be a phenomenal and versatile singer tackling opera, scat jazz and musical theatre, but this is far too safe and familiar a way to use those talents. Back to the drawing board!
After the interval, chaotically livewire Kuan-wen Huang zapped a few thousand volts into the gig. He's super-camp, aggressively flirtatious – and absolutely all over the shop, never settling on an idea for more than a few seconds, making dizzying leaps from Joseph Fritzl analogies to singing Mulan.
The gags are patchy, but the whirlwind, delivery and larger-than-life, self-centred personality certainly distracts from that, wowing an audience even as they struggle to keep up. Certainly it was enough for them to vote this Taiwanese force of nature into second place.
Far calmer was Ola Labib, bringing an engaging, understated energy to the stage. She's a hijab-wearing Muslim of Sudanese heritage, which formed the basis of her act, with wry comments referencing the likes of Isis bride Shamima Begum and grooming gangs.
Though she's packing edgy content into a charming, soft persona, her writing is not yet sharp or confident enough to distill the references into snappy punchlines to get the most impact out of this juxtaposition. But give her time, she comes across as inexperienced, and potentially fascinating.
In contrast, Evaldas Karosas feels fully-formed with a robustly put-together set packed with pithy, efficient gags. Some draw on his East European heritage – and the ignorance most Brits have of it – others make light of the underbelly of life: homelessness, being mugged, depraved sex, all handled with a lightness of touch.
He's a consummate performer, but with a grit in his topics to ensure he's not too polished. It made him the night's winner, and few could have issue with that given he's certainly one to watch.
Against such talents, Lewis Coleman would struggle to shine, especially with an act that reached for the formulaic or contrived a little too readily. An early gag was a predictable '…and that was dad' reveal, and he used the same trick again later.
Yet he's got an eye for observational detail, making much of his father's worldly-wise catchphrases or scenarios such as people being alienated in certain stores. These well-drawn sketches are certainly a solid foundation on which to construct a set.
While Coleman played it safe, Canadian Erika Ehler purposefully divided the room with uncompromisingly dark material, prompting moans of discomfort mixed with guilty laughs. Not the ideal winning formula in a competition judged by audience vote.
Yet each joke is well-crafted on a technical level, if unflinchingly brutal on a moral one. Such materia, delivered with a cold scorn that gives her kevlar armour against audience disapproval, is never going to be everyone's cup of tea. But if you think Frankie Boyle's too soft, Ehler – who scooped the Chortle Student Comedy Award this summer – could be the comic for you.
Review date: 5 Nov 2019
Reviewed by: Steve Bennett
Reviewed at: Manchester Frog And Bucket
Recent Reviews
What do you think?