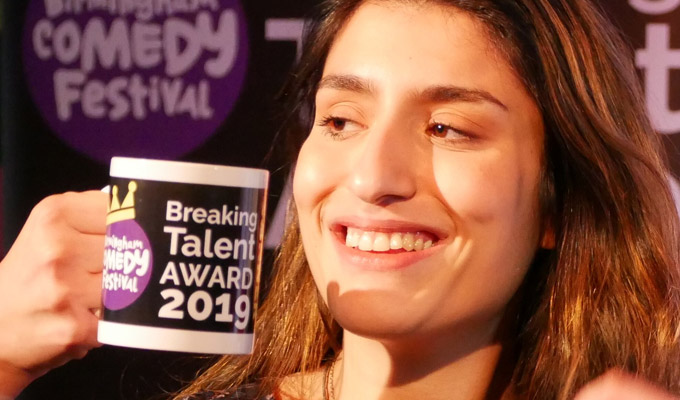 Birmingham Comedy Festival Breaking Talent Award 2019
It has to be the least impressive trophy in comedy. The winner of the Birmingham Comedy Festival's Breaking Talent Award takes home… a branded mug.
But then The Ashes is just an 11cm urn. More important are the bragging rights that are up for grabs, especially when there are just so many new comedians fighting to get noticed.
Each of the finalists at the Glee Club on Friday had already won some of that attention, having been put forward by someone in the Midlands comedy industry. And their performances could be broadly split along gender lines. The three blokes, full of energy and swagger; the two women more sedate in approach but with stronger writing skills.
Originally from Paris, winner Celya AB certainly lived up to stereotypes of Gallic haughtiness, adopting something of an superior, detached stance. But she's also picked up the very British trait of sarcasm, as well you might if you've traded the City of Light for the City Of Spaghetti Junction.
Wry observations about the Brits – and her hilariously half-arsed attempts at our regional accents – as well as more cleverly self-deprecating comments about her laziness and singlehood combine in a set that's both classy and funny. One or two gags could be tighter, but she's an thoroughly engaging presence and very promising writer who seems to know her place in the world. Strong stuff.
She was second on the bill after Jay Droch, who is just 18 months into his stand-up career but already getting work from the BBC Asian Network. His rambunctious delivery is defined by a 'make-em-laugh' showmanship that got the competition off to a high-energy start, after some skilled compering from James Cook.
As a larger-than-life Midlander from an Asian background, comparisons with Guz Khan might be inevitable – and he jokes that everyone assumes he's Muslim – though if he's to stand apart, Droch could do with drilling deeper than superficials gags about vegans and airport security. Though a gag about Starbucks is dripping with just the right amount of cheery ridicule.
Doug Carter was even more boisterous, which went down well with a crowd that seemed to contain a lot of supporters. The material wasn't always edifying, though, as he told of 'Big Dick Dave', of finding porn magazines with their pages stuck together and delivered an entirely predictable Michael Jackson routine.
However, there's much more to hold the interest when he drags himself away from the generic, lowest-common-denominator material to offer some authentic depictions of life on a working-class estate and the wannabe gangstas who inhabit it. But the cheap nob gags, unfortunately, ruled the set.
Adam Elmi also offered a big, playful personality that went some way to mitigating sicker, and very well-worn, material on the likes of Madelaine McCann. However allusion to shagging a woman so hard she ended up in a wheelchair leaves a very unpleasant taste, however engaging he is.
Again, there's more to his credit when he moves away from such by-the-numbers dark topics, especially when he's being self-effacing about his appearance and his poverty, or mischievously suggesting that even though he's Somalian, he doesn't care about racism. Though he certainly likes the free pass he gets to drop the n-bomb.
Finally Mary Flanigan, who has a delightful opening line about being middle-class and from Belfast – a combination that she's keen to point out does exist, despite the usual media portrayal.
Her delivery is perhaps a little too low-key, but she demonstrates her skills as a smart, pithy writer throughout, with many a witty aperçu peppering her charming set on topics as diverse as Catholicism to what the Mr Men look like.
The only small letdown was a contrived joke confusing daytime soap Doctors, which she works on, and Doctor Who – a gag she flagged as weak yet persevered with anyway. She doesn't need this given how many more sharp and astute lines there are in her toolkit, which is why she won a special commendation from judges, myself included.
Review date: 7 Oct 2019
Reviewed by: Steve Bennett
Reviewed at: Birmingham Glee Club
Recent Reviews
What do you think?