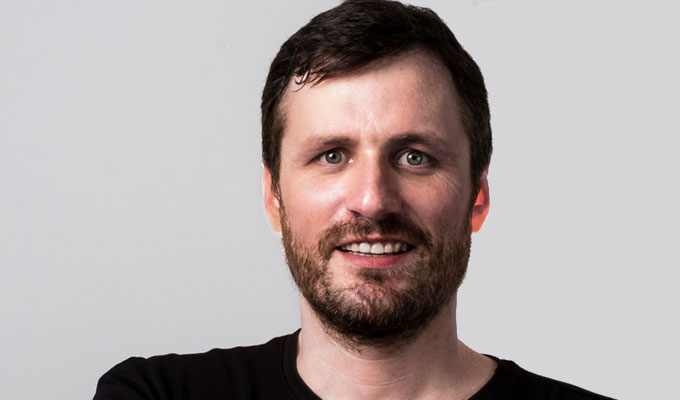 Danny Ward: Danny's Got Talent
For an indication of how much stand-up has changed in the 20 years since Danny Ward first tried, and failed, to become a comic, compare the opening gag he shares from a Jim Davidson joke book, to his own, hilarious sub-conscious, captured on an app that records him sleeping.
One, plucked from the old-fashioned and analogue, the other cutting-edge digital, you'd be hard-pushed to separate the hateful aggression in either.
Still, some things do change. Ward's love of a comedy prop might be facilitated by Amazon and has helped him go viral – while several of these useless knick-knacks also featured in his audition for Britain's Got Talent.
The success of Lost Voice Guy, Robert White, Daliso Chaponda and others on the show mean it's now seen as a legitimate path to fame for circuit acts. So when the hand of opportunity reached out to him, Ward seized it with alacrity.
Amiably conveying his efforts at positive psychology, belief in fate and his smidgeon of naivety, Ward's excitement was tempered by the comedy award he's previously won which then excised him from its roll-call of winners. He's also retained a chip on his shoulder against another circuit mainstay, whose casual belittling of him as an enthusiastic wannabe set him back a decade in his stand-up career, he believes.
This was a similar vibe to the disdain Amanda Holden serves him with when, finally, he's set before the infamous judges at the London Palladium. That she's a dreadful human being and the BGT system is an exploitative cattle market comes as no surprise. But just how little help the show affords its prospective stars is still something of a revelation. Spoiler alert: Ward didn't win, and his agonies over the experience persisted, even beyond finding reassurance that the routine was solid in subsequent gigs, including this one.
He might not have the requisite BGT sob story, having enjoyed every middle-class privilege. But Ward's wholly comfortable in the plucky underdog role and delivers a nicely turned anecdote, reminiscing ruefully but entertainingly on his three-minute shot at the big time, maintaining the central thrust of the piece while straying off into amusing tangents.
Some of the jumpy intensity that used to attend his stand-up has settled down, even as he recalls counting down the hours and minutes to his humiliation with an ominous ticking clock. Regardless of what Simon Cowell thinks, if nothing else, he's got considerably more talent than his stand-up nemesis.

Review date: 25 Aug 2019
Reviewed by: Jay Richardson
Reviewed at: PBH's Free Fringe @ Banshee Labyrinth
Recent Reviews
What do you think?