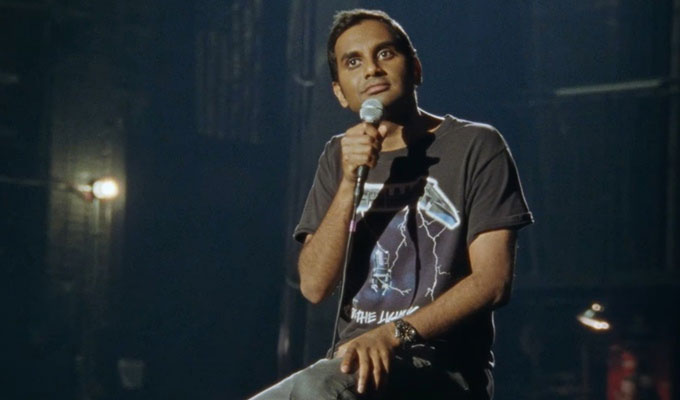 Aziz Ansari: Right Now
We've become accustomed to stand-up specials offering an onslaught of laughs, then dropping the mood for a serious message towards the end.
But Aziz Ansari gets the sombre part out of the way first. But then again, he has to. Everybody knows that Right Now is his comeback after being publicly shamed by a description of a creepy date published 18 months ago – an account which could have been the ending of him.
The audience in Brooklyn seem unconcerned by the notoriety, giving him a standing ovation as he takes to the stage. But he still needs to clear the air and adopts a contrite tone as he speaks of how he learned his lessons from his brush with #MeToo.
'There's times I felt scared. There's times I felt humiliated. There's times I felt embarrassed,' he admits, adding that the incident 'made me think about a lot. I hope I've become a better person.' He says his straight male friends, too, have become more thoughtful in their interactions with women.
Ansari makes only a passing reference to his date who felt compelled to go public – 'I just felt terrible that this person felt this way' – so could stand accused of making the incident all about him. But his own feeling are the only prism a comedian has to go on, whether you call it egotism or artistry.
We'll never truly know, but from his material here, Ansari– unlike Louis CK – doesn't SEEM like a jerk. But then again, he never did, which is what gave the original accusations their potency.
Although he moves on once he's addressed this particular elephant, it's clear his experience of having his reputation so thoroughly raked over has informed his thinking in putting together Right Now.
One topic is how we shouldn't be crucifying people for their behaviour in the past, challenging the witch-hunts over old tweets that become unfortunate out of context. It's not that long ago that mainstream films and TV shows would broadcast similar views without a raised eyebrow, he points out, arguing that our outrage today (however manufactured, another issue he comes to) is a sign of progress – and speaking how anyone of worth will evolve their opinions as they go through life.
He has a fine example from his own work, admitting that an early routine singing the praises of R Kelly 'has not aged well'. He mulls whether a trashed reputation should affect your appreciation of the work, highlighting the fact that Kelly's music has been ostracised, while we still largely enjoy Michael Jackson's. He's not the first comedian to highlight hypocrisy with that very example, but – eventually - he looks a little deeper. And we can also expect Google searches for 'swastika pizza' to rise as viewers hear his take on online outrage.
In similarly zeitgeisty topics, he talks about 'never seeing white people trying so hard' to be nice to minorities – a fact he exploits with some nicely awkward audience participation, one of a small handful of interactions that lend the special some fluidity. But he also admits to finding such virtue-signalling 'a bit it suspicious' as if tallying up points for wokeness.
Ansari can be a little self-satisfied himself, rather too pleased with stating the obvious – even if he does so with the charming eloquence that made his name
He's a little preachy, then, even if the controversy has placed him on shakier ground. Cult director Spike Jonez, shooting his first stand-up special – has tried to humanise him more, with an unconventional filming style. Much of the show is shot very close up, by a cameraman standing tight next to Ansari, at right-angles to the audience's view, and so putting the comic's crew in the wings and the paraphernalia of the theatre in the back of the shot.
After opening with his muted statement about his controversy, Ansari brings the mood down a couple of times later in he show. First when talking about dementia and a sincere note about appreciating your family while they're around, which is a bit too syrupy for my taste. He manipulates the mood downwards again later when talking about birth control – though this time it's a Trojan horse for some solid jokes.
Returning to the scandal that engulfed him for his closing moments, he laments sadly: 'I saw a world where I never get to do this again', subtly portraying his emotional journey as a triumph against the odds.
Ultimately, though, this isn't the stunning comeback that would make the world largely think that Ansari's genius outshines his misdemeanours, like Michael Jackson (where both genius and misdemeanours are huge). But he's probably done enough to repair his fractured reputation both as a human being and a thoughtful, socially astute comic even without landing a killer routine that throws light on something new.
Review date: 9 Jul 2019
Reviewed by: Steve Bennett
Recent Reviews
What do you think?