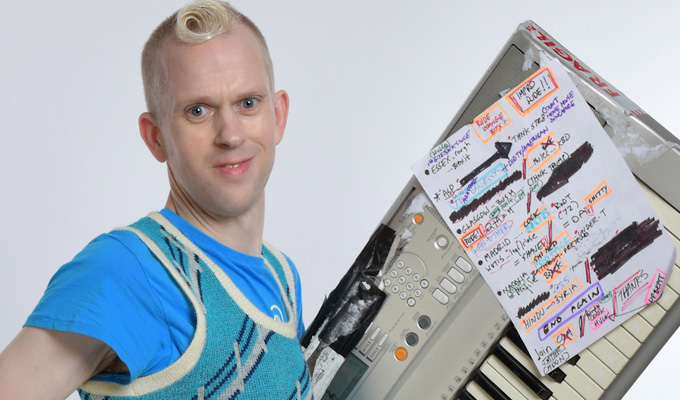 Robert White: The Tank Top Tour
'Come on, it's 2018!' says Robert White as he urges permissiveness from his audience, before quickly correcting his internal calendar.
But he's not more than a year out of sync. We could almost be in 1974 during much of this show, and not just because of the garish tank top that has become his trademark – but because of the cheesy puns, endless innuendo and heavy reliance on his pushy flirting with a straight guy in the crowd that gives his material a dated feel.
Yet his very presence in decent-sized venues on his first national tour – thanks to his success in coming second to Lost Voice Guy on Britain's Got Talent last year – could be ascribed to 21st Century inclusivity. In this age of identity, the mainstream audience warm to this clear outsider: the comedy circuit's only gay, dyslexic, quarter-Welsh, Aspergic, webbed-toed comic, in his own, oft-quoted words.
His clear vulnerability - nervously rubbing his torso and forever fiddling with the microphone stand as he tames his social anxieties – are distracting but endearing, coming with an inbuilt air of self-deprecation. He sells his material well, too, cheerily revelling in the guilty pleasures of his wordplay, even if some of the gags are older than than the hills.
Yet others are not, and sparkle with a peculiarly convoluted inspiration. Maybe it's his position on the autistic spectrum, but one of his talents – or compulsions – is to be able to pull apart words into their constituents and reform them in peculiar ways. Another of his talents is for music and his comic songs - though again old-fashioned – are usually jaunty and funny.
He combines his key skills in a number at the end that has plenty of improvised lyrics about the night's events, while being anarchically playful with the audience's expectations… though the effect is undermined by his running commentary on what he's doing.
When he's good, this Tintin-haired scamp is very good; but the obsession with cheap, artless filth is his undoing. Occasionally the double entendres are, erm, pulled off with with surprise and elegance. But much of it is childish snickering. He's the sort of person who can't mention a magazine without a cheap and obvious joke about its pages being suck together. And yes a giant dildo does make an appearance, with no particular context.
Similarly White finds the concept of chatting up hetero guys and insinuating they are gay endlessly funny. Big kudos to game punter Paul for playing along so gamely tonight, taking the potential awkwardness out of the mock-predatory behaviour when he was brought up on stage – but it's very tacky.
It so often feels as if White is so scared the audience won't like him that he fires every lowest-common-denominator gag he can think of out of desperation. To some extent it works, and he does entertain the newfound larger audiences he's attracting, but he's selling himself a long way short.
The shambolic nature of the show is part of its appeal, as well as surely being part of White's character, but a little quality control would go a long way to showcase some of his more esoteric, quirky wit rather than the endless crude knob gags.
Review date: 14 Mar 2019
Reviewed by: Steve Bennett
Reviewed at: Leicester Square Theatre
Recent Reviews
What do you think?