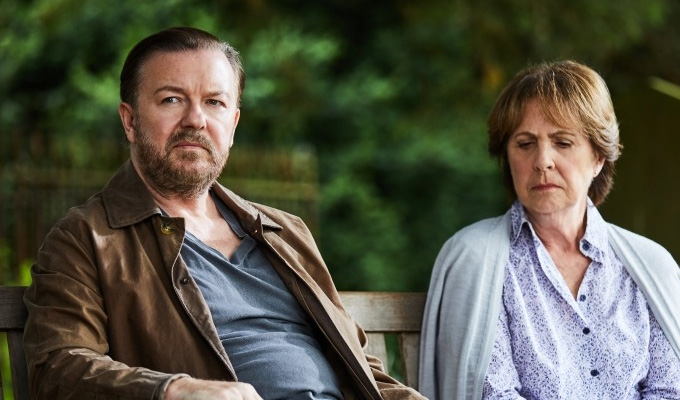 After Life
Followers of Ricky Gervais's work will spot elements form across the CV in his new Netflix series. There's the dreary office setting, the overt sentimentality of Derek, and plenty of the mean-spirited vitriol of his stand-up.
The reason for the latter is the foundation of After Life, which has taken Gervais from Slough to the slough of despond. His character, a local newspaper reporter called Tony, is floored by the death of his wife Lisa (Kerry Godliman). Useless without her, he wallows in a pit of his own self-pity, however justifiably, as he endlessly rewatches her video messages from beyond the grave.
His grief-fuelled nihilism has left him feeling there's 'no advantage to being nice, and thoughtful, and caring' since the only thing he ever loved, with the exception of his dog, has gone. You don't need to be a screenwriting major to spot the seeds of a redemption story being sown.
That fatalistic attitude makes him want to be as blunt and as mean as he likes 'and when it gets too much I'll just kill myself'. Such bluntness is partly comic, partly unpleasant to watch.
Similarly the tone can vary from the maudlin - in the moments where he mourns, or visits his Alzheimer's-suffering father (David Bradley) in an old folks' home – to the absurd when it comes to the parochial stories he must cover. You might even get a good ole-fashioned fart joke.
This gives the show an uneven emotional and moral tone, with Gervais clearly enjoying the more heartless lines he gives Tony, while also unpicking whether he might want to feel guilty about that. But the ambiguity also means After Life reflects the complexities of real life, as big topics such as suicide, assisted dying and moving on after a major loss are explored int he comedy-drama.
There's a fine supporting cast of comics and regular Gervais collaborators, such as Extras' Ashley Jensen as the nurse caring for Tony's father, Roisin Conaty as the sex worker who gives him a shot at redemption. Tom Basden as Tony's soft-touch boss, and Diane Morgan, whose wit is as arid as ever, as one colleague not always prepared to put up with Tony's self-indulgent unpleasantness. It's also Gervais's best acting performance since David Brent.
It's surely not much of a spoiler to reveal that Tony eventually comes to realise his behaviour is wrong, that he's not the only one with problems, and such an arc can be a little convenient.
But it seems clear After Life is Gervais's dissertation on the themes of offence, empathy, manners and political correctness that define his public image.
Certainly it will be interesting to see if he has a similar epiphany as Tony when it comes to the no-holds-barred, don't-care-if-you're offended, edgelord aspects of his stand-up, or whether his next tour will be as harsh as ever.
Review date: 9 Mar 2019
Reviewed by: Steve Bennett
Recent Reviews
What do you think?