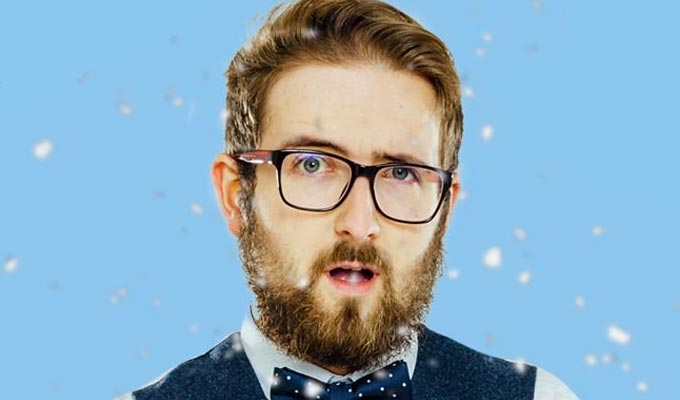 Leicester Square Theatre comedian of the year 2018 final
Here's a sobering thought: in the ten years of the Leicester Square new comedian competition, 4,200 hopefuls have auditioned, according to venue owner Martin Witts. That's quite a lot of acts whose careers have gone nowhere.
Into such odds step this year's 15 finalists, whittled down from a few hundred. They offer a consistently decent standard, even if clear stand-outs are difficult to identify.
First up was Mad Ron, a gruff-talking, old-school London hardman. Think Hale and Pace's bruisers The Management, if your memory goes back that far, who were also called Ron and Ron. Amid his threatening manner, this unapologetic wrong'un bemoans such newfangled developments as vaping or email, and has amusingly intolerant lines to explain why. It's a well-constructed, well-practised set providing a dependable, gag-focussed start to the night, if not quite the wow factor to make the podium
Martin Durchov is from Bulgaria and very much mines the stereotypes of his homeland that you might not even have thought you harboured to good effect. Moving off the topic proves less fertile though, with musings on why he's losing hair from his head only for it to appear elsewhere, and on the alleged differences between men and women when it comes to sex, feeling a little tired, even if he had slightly alternative ways of covering the old ground.
His backstory was trumped by Mamoun Elagab, though, an orphan who was brought up by his uncle, a one-time political prisoner in their native Sudan. Deceptively mild-mannered, he jokes about not being a good person and of flunking at university, which isn't as multicultural as he'd hoped. He's an astute, engaging guide and it feels as if these five minutes only scratch the surface of what he has to say. Definitely promising.
Talk about bad timing. Davina Bentley opened with a joke pretending that she was treated like an orphan, which is rather awkward when you're following the real thing. And her patchy set never really took off, taking in a few common tropes such as saying something into the mic and pretending it was a 'heckle' she reluctantly had to deal with. Personifying vaginas into being posh, like her, or mean seemed cheap and unoriginal too.
Darran Griffiths cuts an appealingly roguish figure, suggesting himself to be a slightly shady small criminal. Starting from the monoculture of his almost all-white hometown of Harlow in Essex, he's playful about black representation in general – and although a couple of premises are obvious, he sets out his case with charm and wit. The set is well-constructed with recurring themes, too, all of which earned him the silver tonight.
Opening the second section, William Stone displayed a great flair for penning brisk, offbeat jokes that genuinely surprise, very much in the mould of Milton Jones. Making liberal use of rhetorical questions, his strike rate is high – though a couple are uncharacteristically predictable. And the lines that crash, crash hard because his deadpan demeanour can't carry them. That lack of connection may have cost him a place, because his writing is mostly excellent.
The Leicester Square competition favours straight stand-ups, but Charlie Hopkinson has a fine talent for impersonation that adds a bit of variety to his set – with his Peaky Blinders a real standout. But while he's taken pains to ensure his mimicry is used in a slightly different way to most impressionists, his writing is verbose, and occasionally clichéd, spending far too much time talking around the houses. In a five-minute set that really drags the gag rate down.
Hubert Mayr is an Austrian, and tacitly admits his homeland can have something of a dark reputation given its most famous citizens. He will do little to lighten that, with plenty of black humour about how the miseries of commuting drain his will to live. The joyless tone is unremitting but may resonate if you're on his dour wavelength.
At the opposite end of the personality spectrum is the very likeable Matt Hutchinson joined the evening's theme of mocking racial expectations, disavowing any suggestion he should be 'street' by revealing himself to be an NHS doctor from a comfortable background. He's certainly an assured presence, comfortable in his skin and making the audience feel they are in safe hands too – must be that bedside manner. And while he's dependably amusing, too, only a couple lines really stand out as exceptional.
Camp, unabashedly honest and slightly waspish, we've seen plenty of comedians and entertainers in Sam Lake's mould before. But he makes for fantastic company: over-sharing in an infectiously upbeat way about his upbringing in insular corner of Cornwall and of his relationship, including a bedroom secret or two. A thoroughly engaging larger-than-life personality, he was a shoo-in for the top prize.
Toussaint Douglas's character is appealing, too, even if the material trundles along rather than zinging. The problem is he too readily reaches for a well-used idea such as imagining his grandmother planning to emigrate from the West Indies as part of the Windrush generation to escape the endless sun for British drizzle. But he's someone you'd like to hear more from, especially once he moves on from the low-hanging fruit.
Charlie George has an elegantly calm and collected demeanour, but her wry observations are underpowered – the odd strong line notwithstanding – which makes her set seem very inconsequential, even though her situation and background are interesting.
Yumna Mohamed is more peripatetic, bristling with energy as she speaks of being single at 30, almost unheard of in her community, and of how telling people she doesn't drink because she's Muslim causes problems. Her take on how she found the faith in the first place offers a nice side-swipe at the bigots, incidentally. She could do with a little more focus, even if slightly scatty exuberance is part of the image, but you'd pinpoint her as one to watch, for which shared third place seemed about right.
She may protest that she has little sass, but Jess Brey brims with a more understated confidence, as a posh, geeky young woman. She has a couple of decent lines, but she finds it difficult to shortcut to a punchline, instead filling the set with familiar blether about coming from a generation of self-obsessed millennials. Her comic tools might be there, but they need a lot of sharpening.
'The party's arrived,' deadpanned Calum Stewart as he took to the stage, cutting a intriguing weirdo figure. But this morose and offbeat Welshman couldn't quite deliver on what that awkward outsider persona promised. Tales of being socially unconfident tended to splutter out, thwarting the hopes his writing would be as distinctive as the stage presence. Nonetheless, he shared third place.
Here's to the next 4,200 wannabe comedians!
Review date: 18 Dec 2018
Reviewed by: Steve Bennett
Reviewed at: Leicester Square Theatre
Recent Reviews
What do you think?