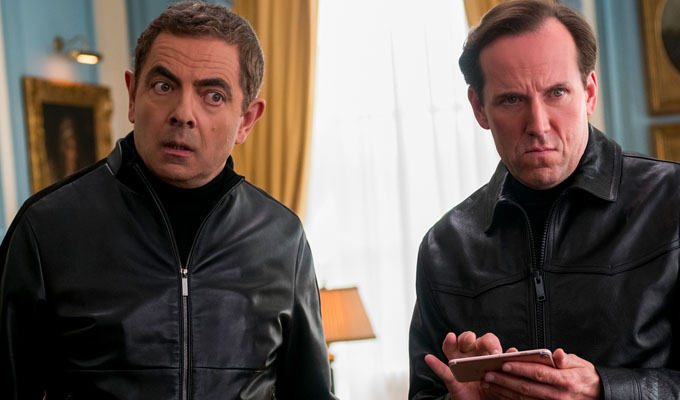 Johnny English Strikes Again
The premise of Rowan Atkinson's third Johnny English film – a good seven years after the last – is that our titular secret agent is an analogue hero in a digital age.
So when a hacker exposes all Britain's spooks in the field, our accident-prone protagonist is called out of retirement, where he's teaching geography and a bit of spycraft on the side in a fusty public school, to track down the super-villain responsible, sans any vulnerable high-tech devices (except for the occasional exploding cotton bud). It's Skyfall, essentially, stealing a plot from the genre it's spoofing.
But it also feels like this parody is something of a relic, with sluggish and perfunctory action in the age of high-octane Bondalikes such as Kingsman, which have a strong parodic element and don't take themselves too seriously.
Johnny English Strikes Again does contain some very funny set pieces that showcase Atkinson's undeniable physical comedy chops, undimmed at 63 years old, but anything In Between feels like a drag, however much money has been lavished on it. Director David Kerr – making his big-screen debut after an esteemed career in TV including Inside No 9 and Fresh Meat – keeps the story as brisk as possible between these skits, yet still the running times feels longer than its 88 minutes.
And for all the big-budget pieces and lavish French Riviera locations, the smallest scenes are the best: Atkinson trying to play it cool after tasting a super-spicy bar snack is a delight, as is his fighting the comedown after taking a particularly potent pick-me-up drug,
There are laughs, too, in a contrived set piece in which he causing chaos as he walks into the streets of London while wearing a virtual reality headset playing a combat simulation – a scene worthy of Clouseau. The white-suited antics on the dancefloor are a little more clumsily shoehorned-in, but are simple entertainment.
Of the supporting cast. Emma Thompson brings a touch of class as the beleaguered Prime Minister, desperate to sign a deal, however bad, to get her out of a political impasse (where did writer William Davies get his ideas?).
Real-life former Bond girl (and Death Of Stalin actress) Olga Kurylenko can't do much with the two-dimensional role of an eye-candy Russian agent, Jake Lacey is a bland boilerplate evil tech billionaire Volta (Elon Musk does unhinged visionary so much more convincingly) and Ben Miller, returning to the franchise after skipping the second instalment, just has to be quietly competent as English's partner Bough, which he does. And there's surely an in-joke in that Alexa's evil twin, the voice of artificial intelligence who does Volta's bidding, is named after Miller's sometime double-act partner Xander Armstrong.
Good cameos from Kevin Eldon (though he's gone after the first 20 seconds), Johnny Sweet as a tour guide English attacks and Vicki Pepperdine as Mrs Bough, a typically no-nonsense nuclear submarine commander stand out, but it's not enough
For the story is anaemic and lethargic while gags are more heavily signposted than a motorway turn-off. What could possibly happen after English poo-pooh's Bough's suggestion they put some petrol into their Aston-Martin?
Perhaps we shouldn't expect more from a movie franchise that started life as a credit-card commercial, but Johnny English Strikes Again is a collection of visual sketches – some excellent, others not – held together by the most threadbare of structures. Forget the anti-tech message and wait until you can stream this on your phone, it's not really worth a cinema trip.
Review date: 5 Oct 2018
Reviewed by: Steve Bennett
What do you think?