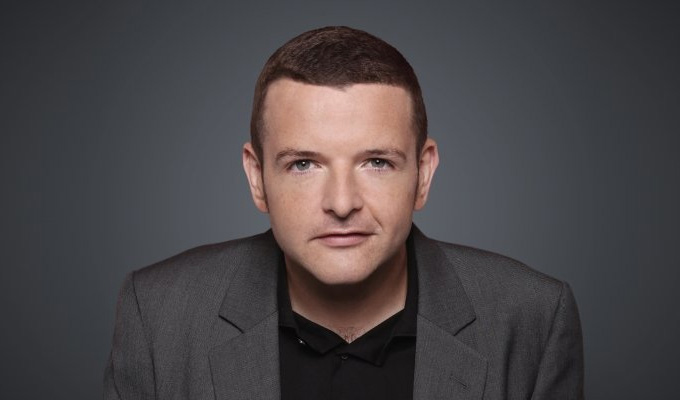 Kevin Bridges: The Brand New Tour
At 31, Kevin Bridges might still seem too young to be doing nostalgia humour. But as a comedian who celebrates direct human interaction, especially at its most playful and teasing, he's wistful for those simpler times before the internet.
As a member of the last generation able to recall such a primitive era, he recalls the emotional risk of asking a girl, 'would you get off with me?' or the suspense in calling for a Chinese takeaway, with no subsequent way of knowing if it was coming – dramatic domestic experiences both now outsourced to apps.
The notion that something has been lost is brought brilliantly and hilariously to life when Bridges recalls a happily antisocial playground oddball from his schooldays, allowed to run around on his imaginary motorbike unfettered. In a cautionary fable for our times, Bridges now imagines a much more elaborate sequence of events for the poor old lad today, engineered by antisocial social media.
In the comic's early 1990s schooldays there wasn't a name for 'fat shaming' - though it was rife, along with any other myriad reasons for mockery or bullying. His own anxious childhood is now a source for great humour, with his exam nerves recreated in a wonderful section where he tells of the pressure making him forget how to spell 'who', his intensifying panic locking him into inescapable mental cul-de-sacs that become more frantic and more funny.
Perhaps he has a rose-tinted hindsight, but this past is almost romanticised as part of his desire not to be dragged into adulthood, like his poor old mate Craigy, now boring old Craig as the wild past is crushed by conformity.
As he sits between generations – 'young but not a youth,' he admits – Bridges also sits between classes. Comedy success has brought him a decent gaff now – and he even buys avocados, much to his dad's comical bemusement – but all those years in Clydebank have conditioned him not to feel 100 per cent at home.
Again, he celebrates the unpretentious directness of his working-class roots, revelling in the often lyrical brutality of Weegie patter, while coining some earthily poetic lines himself, most memorably in an elegantly vivid way of describing the people of his former neighbourhood.
The origins of many of Bridges' observations are not always new, from the agonising ordeals of dial-up to bad hangovers. But whatever analogies he draws are built on his truth from his experiences.
That even works for more universal comments, such as the Biblical Joseph naively accepting the virgin birth, with the old idea enlivened by Bridges imagining 'Joe' telling the story to his buddies as if on a Glasgow building site. There are echoes here of Billy Connolly's classic Crucifixion routine, fuelling the obligatory comparisons with the Big Yin.
Similarly, when Bridges kicks off about the state of the world right at the top of the show, it doesn't take a huge leap of imagination to portray Donald Trump as an opinionated pub bore or an ignorant, racist, conspiracy-theory-believing cab driver. But the authentic of the characters he evokes is what wins it, plus a perfect putdown to the bar-room Trump that he can use as a perfect callback later.
The show is anecdotal, though, not political and mock-berates himself when he catches himself potentially lecturing the audience. The show is more Ned Talk than Ted Talk as he harks back to that unrefined past.
Only a section about dieting and food stumbles a bit, though Bridges is astute enough to know when to manoeuvre around routines that aren't landing. He's got the well-honed instincts of a club comedian at his core, including a conversation vibe exemplified by the way he fires the odd question to one particular front-row punter. Although that mateyness means more interruptions from the audience who think he's their genuine pal.
And tonight, a particularly irritating man stomped on punchlines as walked triumphantly across the stage and back twice in 80 minutes, showing his bladder to be as feeble as his brain. Though Bridges might seem a bulletproof act, this did faze him, especially as the second interruption knocked the building tension of a family wait for that Chinese takeaway. Luckily, it's a fine piece of gradually building comic storytelling that withstood the damage, but it would have been a more powerful showstopper without the sideshow.
• Kevin Bridges: The Brand New Tour runs to the end of the month. Click here for dates.
Review date: 10 Sep 2018
Reviewed by: Steve Bennett
Reviewed at: Eventim Apollo
Recent Reviews
What do you think?