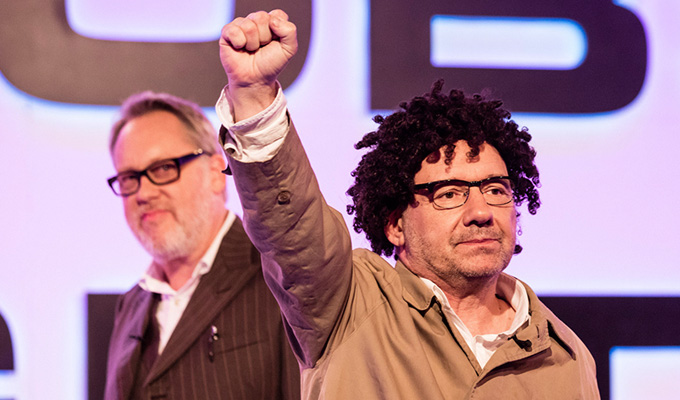 Vic and Bob's Big Night Out
Note: This review is from 2017
It's good to have them back – Vic Reeves and Bob Mortimer might be going back almost 30 years to revive the Big Night Out format that made them famous on Channel 4, but their unique blend of art-school surrealism and old-school variety is as relevant and potent as ever, while staying true to their roots.
Fans from back in the day will delight in reacquainting themselves with old favourites like Novelty Island and catchphrases such as 'It's around about this time of night that I like to…', 'Vic, I've fallen', 'very poor'
But what's also notable is the number of cult favourites that haven't made the cut: no Judge Nutmeg, no Stotts, no Man with no Stick. For this revived Big Night Out is not just a nostalgic greatest hits package, Reeves and Mortimer are moving forward as well
The opening, in which a couple of voices describe a weird scene Reeves has painted, is slightly disorientating. But once they launch into their opening song about trousers, you know the old silliness is back, but it's set loose in new directions.
Vic's ensuing confusion about denim workwear slacks being known as 'jeans' nowadays segues into the first of several filmed sketches – an element that never happened on the low-budget, true-to-live-performance originals, and one which gives them the chance to reunite with Matt Lucas, in a perfectly daft hairpiece. A later film spoofs First Dates with some deliberately woeful banter from the duo.
Cheesiness is a major part of their appeal, cracking convoluted gags so they can revel in the (sometimes literal) song and dance they can make over the corny punchlines. For Vic and Bob have never tried to do anything more than entertain each other, dicking around for their own amusement. And the fact they frequently make each other chuckle adds warmth to the nonsense on screen
If there was any doubt they weren't just being big kids, the 'can we have a punch-up?' section should dispel it – a brilliantly stupid bit of exaggerated miming that does away with their trademark comedy frying pans for pure 'air violence'. And Vic's rejoinder to the bewigged Bob's insult is hilarious, as he asks: 'Would an idiot be able to do this?'
They are the opposite of slick stand-ups seeking relatable common ground, so it's no wonder they explicitly mock its conventions. But while they are not the first to dismiss observational comedy as stating the bleedin obvious, they do it with such flair and authenticity.
Elsewhere in this varied half-hour is a weird cake-monger, Vic recalling some of his favourite memories (another chance to use some of his distinctive artwork) and celebrities like you've never seen them before including Simon Cowell and Rod Stewart, who has brought along his arse-kicking machine.
Not everything makes sense – the police wheelbarrow race at the end is pure non-sequitur – but if you've embraced Vic and Bob's good-natured madness, you can trust it'll be funny even when – or especially when – it defies description.
We should be grateful they wouldn't let it lie, and the next four Big Night Outs planned for BBC Four next year can't come fast enough.
Review date: 29 Dec 2017
Reviewed by:
Recent Reviews
What do you think?