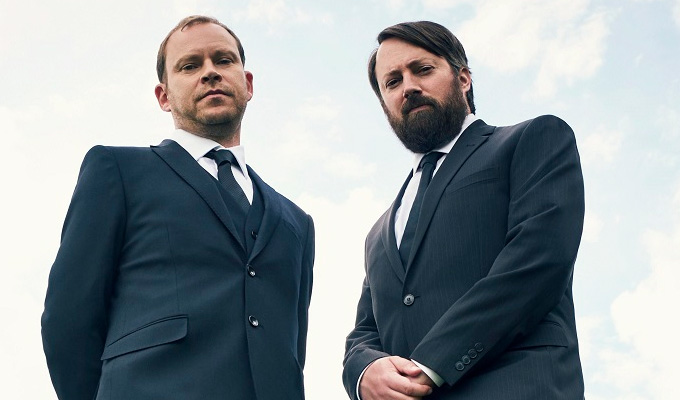 Back
Back is not Peep Show: The Next Generation. But it also sort of is, inescapably
David Mitchell and Robert Webb certainly play to much-loved type. The former the embodiment of emotionally repressed Middle England trudging through life, the latter an effortlessly charming fantasist who tends to land on his feet, however ill-considered his actions.
But typecasting is the lot of the comedy character actor. There will always be a bit of Basil Fawlty in everything John Cleese does, too – and that's exactly what we, the viewers, want.
Obvious similarities aside, however, this new Channel 4 comedy certainly stands on its own considerable merits.
The show opens with Mitchell's character Stephen, fretting about the sausage roll allocation for his dad's wake. He's bought the type that's one up from the cheapest, as pithy a way of encapsulating his timidness as anything, and concerns himself with trivial practicalities to avoid the emotional issues of the things that went unsaid between father and son.
Webb plays Andrew, who shows up at the funeral and reveals himself as one of the family's many former foster children. The few months he stayed with them as a child left a lasting impression, even though Stephen can't even remember him .'There were so many of the fuckers, I lost track,' he muses. 'Like the Sugababes.'
'Is this some sort of Martin Guerre thing?' he later queries as this imposter imposes himself on the family. Stephen had been finally looking forward to some purpose in life, running his dad's former pub – although his much-vaunted 'refurb' was ill-judged – now it could all be ruined by this interloper, who he's convinced, with some justification, is some sort of sociopath.
Andrew certainly inveigles his way into the affections of ageing hippy mum Ellen (Penny Downie) and sister Cass (Louise Brealey) quickly enough – and his true motives and background provide unanswered questions that will keep audiences hooked.
While the comedy depends on the well-established chemistry between the central pair, writer Simon Blackwell – who of course worked on Peep Show too – has created some peripheral weirdos, too, not least in Geoffrey McGivern's outrageous growing-old-disgracefully Uncle Geoff.
And there is a fair share of pricelessly funny moments. Stephen wandering around town with the cutlery tray from the dishwasher after being locked out is a lovely understated touch, while the script contains more blatant gags.
'There's a music festival now,' Cass tells Andrew about changing life in the village. 'It has four stages!'
'Like cancer,' comes Stephen's beautifully sardonic reply.
Stylistically, the show is interesting too, with shots very literally showing Stephen still as a child lost in the world. And flashbacks contrast the different memories the two leads have of their youth: Stephen's in repressed monochrome, Andrew's full of vibrant life and played out to a Wham! soundtrack. Better still, we get to see Garth Marenghi himself, Matt Holness, back on telly as a younger version of their dad.
It all could be just enough to nudge Back out of the shadow of its illustrious forebear.
• Back is on Channel 4 at 10pm tonight.
Review date: 6 Sep 2017
Reviewed by:
Recent Reviews
What do you think?