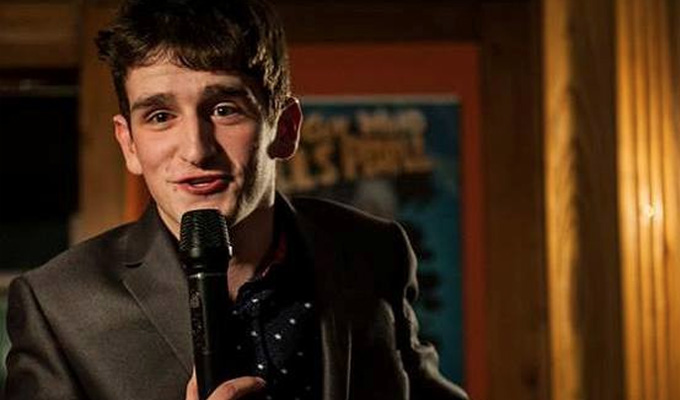 Amused Moose National New Comic Award
And so to the final of a national newish act competition, the last nine standing from a field of 500 rigorously auditioned acts, this was an eclectic bunch.
Unusually, the audience have a say in who wins, being invited to mark each person for star quality. Not comic ability, gag writing, original ideas or unusual point of view but potential to be a star, which I guess in this day and age means the one most likely to be plastered all over the panel shows, guest spots, royal variety, TV friendly kind of act. The one that makes industry people ask themselves: 'What can I do with this?'
There was a range of styles on offer here, never boring and the event was kept on track by the lovely, friendly and very funny Ian Smith, doing a comedy marathon of introducing the nine acts and maintaining energy in the room.
First act was Sam Whyte, who looked like a junior Miles Jupp, with a self-deprecating set acknowledging that there's not a lot more to be said about being a single, white male but saying it anyway. His delivery was knowing and dripping with irony, his content was a bit light on gags, very much the highly prevalent style of live blogging where masses of detail is offered in a long story, but is ultimately light on tags. He is assured, and has good presence, but needs pithier material.
Up next was Rosie Jones whose beaming, vocally swooping, slow delivery kept the audience constantly on the edge of hilarity as she delivered a set on ataxic cerebral palsy which is her USP. She created a lot of laughter with her testy observations on disability and radiated appealing, warm confidence.
Rob Oldham was my personal favourite, and the judges gave him the 'breakthrough comic' award for his gag-stuffed set that made him the finalist who seemed most like a comedian with the ability to be goofy and posh at the same time. He delivered a thoroughly relatable set with aplomb.
Joseph Emslie was next, radiating comic innocence and making great play of his schoolboy looks. His wasn't the only set with dick jokes, but there did seem to be rather a lot of penis and wanking stuff, and his 'teapot' stance, hand on hip, elbow at a jaunty angle, weight on the back foot looked at once studied and awkward.
Closing the first half was Jack Gleadow, the eventual winner, who had a high-energy set that was dangerously close to street performance dragged indoors, involving audience 'volunteers' for some light humiliation. He had the skinny nervous energy of a young Lee Evans and could perform to any age or demographic and coped like a seasoned pro with some technical stuff ups which only served to emphasise his ease on stage. He got huge laughs and the result was pretty much in the bag at the interval.
However after the break, even higher energy and slapstick clowning was to come, with a messy set of spilled drinks, chocolate cake and string-eating, Michael Clark delivered a manic set with too much pre-recorded material and a high level of audience member embarrassment, the sort of behaviour that would get you done for assault if there wasn't stage lighting involved. Chumbawumba's Tub Thumping chant raised the collective heartbeat in the room, never mind what Clark could bring to the set. The noise level made it feel like a storming gig, and it filled the novelty niche, but nobody would want another five minutes of this.
Helen Duff delivered an extraordinary physical performance, rolling around the floor, taking over-sharing to the next level as she spoke about her sexual problems and daddy issues, while her loony inner voice growled and spluttered interjections over her fluting tones. You couldn't take your eyes off her, she was all movement and barely controlled energy. It was extraordinary and uncomfortable to watch, I just hope it was cathartic for her.
In sharp contrast Huge Davies was brave enough to be quiet, haughty and unsmiling, with no desire to court the audience. An unusual musical act who is haunting rather than irritatingly perky and can actually sing and play piano. His material was jet black, funny and unsettling, the ice-cream van stuff priceless.
Last but not least was the very polished Olga Koch, making the most of her Russian background and American upbringing in her gags. Her demure presentation is in sharp contrast with her sometimes nasty material (it's not often you get a woman doing rape jokes), but she successfully pulled off a determinedly tricky set. I would expect to see her make inroads into the comedy scene fairly quickly.
Overall, an energetic final with some quality work, showcasing the next generation of confident performers.
Review date: 14 Aug 2017
Reviewed by: Julia Chamberlain
Recent Reviews
What do you think?