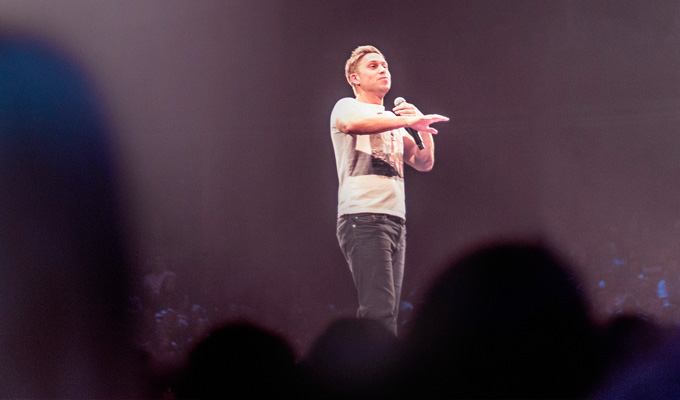 Russell Howard: Round The World
Note: This review is from 2017
Russell Howard's aim for the show – and he mentions it a few times, lest we be in any doubt – is to offer a 'giggle in the gloom'. In a world riven by division and distrust, he's here to celebrate the best in humanity, offering up those moments of joy and silliness that have always been his stock-in-trade as an antidote to mean-spiritedness.
As a mission statement it might sound a little trite, but it resonates with his audience. His tentative forays into politics rarely goes beyond soft-left clarion cries such as defiantly stating that Nigel Farage 'does not speak for me', but the statements are heartfelt as well as crowd-pleasing.  And in the home of The Last Night Of The Proms, Howard offers his own stirring moment, rewriting the National Anthem as a patriotic paean to the NHS.
The Royal Albert Hall is no place for subtlety, of course, even if being in the round lends a bit more intimacy than its normal orchestral layout. With his animated delivery on a tiny circular stage in the middle of this imposing venue, Howard appears like a pirouetting ballet dancer on a money box. The gestures and the cadences are big as he puts full passion into every sentence, getting the veins  throbbing (hough that could just be because he's been working out a lot).
For all Howard's protestations about being slightly odd, about his wonky eye or being the UK's No 23 'weird crush', this is slick showmanship – complete with pyrotechnics and a wrestling-style warm-up (after his regular writer Steve Hall does a more traditional opening act job), getting everyone to clap in increasingly urgent  rhythm.
Mainstream means some familiar comedy ideas get another run-out: women on a night out acting far more supportively than men ever would; the relationship argument staple of 'Well, if you don't know what's wrong, I'm not telling you' or examples of health and safety gone mad. But he puts his own stamp on such routines by his skilful act-outs of the scenarios.
He even starts to address the 'failing body' shtick of most middle-aged comedians, for Howard's now closer to 40 than 30 – not that you'd know it from his youthful vibrancy and childish glee.
Some of this material Howard wraps in a message of social responsibility – pointing to the one in four young women who self-harm because of the unrealistic expectations of porn or the ever-present image-conscious anxiety of the social media revolution. But at the end of the day this'll still end up in a gag that pubes ain't what they used to be. He, too, confesses to serious anxieties about death: the source, he says, for his compulsion to act impulsively and stupidly, to revel in the moment.
His strongest moments, as always, are the despatches from the Howard family. Already familiar to fans are his mother Nanette, wonderfully surreal in her idiocy, exaggerated by the adorably daffy West Country accent; his prankster dickhead of a brother; and  his no-nonsense dad. Russell is definitely a product of this family, combining elements of all three. 
Other relatives introduced here are his three-year-old nephew, a sponge for creepy phrases the comic teaches him, and his 11-year-old cousin. The latter's visit to London Zoo – and the warnings his school gave him on dealing with any ISIS terrorists he might encounter there – provides the basis for a long flight of fantasy that rather outlasts its premise, a rare sluggish segment for a comic usually so on-point in his pace and energy.
That extends to a well-judged moment of pathos. Losing two grandparents – one on the day Donald Trump was elected to add to the despondency – gives Howard a lump-in-the-throat moment. Which, after a poignant pause, is of course undermined with a moment of silliness.
For most stories from his family underscore his celebratory stance of loving life's lunatics, and hating the beige people. 'Not in a Ukip sense', he stresses, but in the same way that Billy Connolly has long railed against the same conformity. Ironically, the way Howard approaches comedy is pretty conformative, but the execution is impressive and the sense of fun infectious, ensuring he remains the template for this youthful, mass-appeal anecdotal style of comedy. 
Review date: 10 Mar 2017
Reviewed by: Steve Bennett
Reviewed at: Royal Albert Hall
Recent Reviews
What do you think?