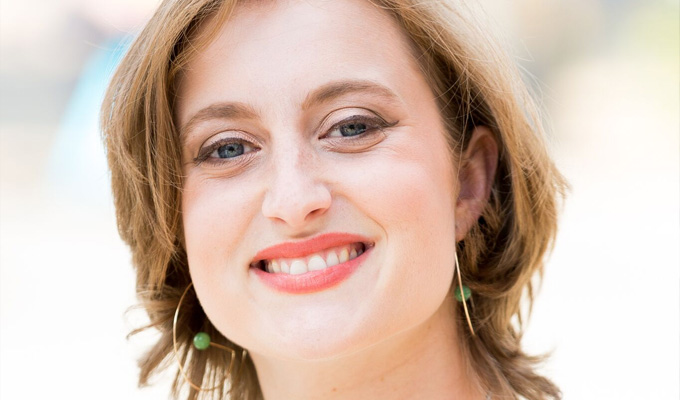 Funny Women Final 2016
Note: This review is from 2016
It's probably the glitziest of all the new act finals, taking place beneath Europe's biggest glitterball in Koko nightclub and in front of an equally sparkly backdrop proclaiming: 'Laughter is the best cosmetic' (what, even ahead of sponsors Benefit?). There's a glossy 20-page brochure and a goodie bag of make-up for all who attend, too.
This year's final is also boosted by the minor-celebrity presence of mentors such as Sara Pascoe, Jan Ravens and Zoe Lyons offering a nice bit of support and guidance for the finalists… although having each introduce their own act following 'bantz' with host Kerry Godliman, definitely slowed the momentum of the night. 
With all this hoopla, a final comprising six short sets from new acts ('Enough for six BBC panel shows,' a quota-conscious Pascoe wryly noted) spin out to more than two and a half hours. The 'thank-yous' and prize-giving alone creeps towards the 20-minute mark, including the winners of short film and writing sections. 
So to the element that matters most, the fledgling comedians.
First up was Rivka Uttley, a likeable low-status character from Leeds who instantly confessed to falling into the stereotype of the singleton – cats and all. Her material was a little pedestrian, however. Giving her cat a human name was a nice touch, although the jokes then write themselves, which makes them seem formulaic, while comments about looking young seem too indistinct from what others have done before. The fact that one routine ended by bluntly calling her gran a 'bitch' to close an argument, and the next by dropping the c-bomb on a cab driver for the very same reason suggests a limited scope in punchlines, beyond barking out a disproportionate reaction. However, a more novel take on 'missed connections' newspaper ads painted a vivid picture of awkwardness that her more straightforward gags missed.
'Being disabled,' said Rosie Jones. 'Is amazing!' She has fun using her condition to make strangers feel uncomfortable, especially those with the selfish temerity to use the accessible toilets. As she playfully exploits social tensions for her amusement, it's easy to draw parallels with Tim Renkow, similarly mischievous with his cerebral palsy. Longer term she'll need more distance between her and Renkow, but her cheekiness makes her a compelling performer. The way she dealt with malfunctioning microphone tonight reinforced her winning stage presence, making her a clear audience favourite.
Harriet Braine is a musical comedian with a very niche angle: she sings about art history. So tonight we got 'Pablo, Pablo Picasso' to the strains of Steve Miller's Abracadabra, and Natalie Imbruglia's Torn repurposed to be about Charles Rennie Mackintosh. Informative and entertaining – although it was a bit of a stretch to make the subjects sustain the four minutes of each song. However, she varied the Picasso chorus by popping the 'P's of his name and displaying some virtuosity with the mouth trumpet, a device previously only used by circuit veteran and bossa-nova aficionado Earl Okin. It was a more-than-serviceable set that could slot into a lot of club nights, although judges thought there was more to it than that, and awarded her the Funny Women title of 2017.
Catherine Bohart had a more subdued gig, which didn't do justice to her often elegant writing about her life as the bisexual daughter of an Irish Catholic deacon. There are a couple of obvious jokes about the Church, such as priests wearing dresses, that pull down her average, but Bohart generally has a fine way with words and a quietly subversive manner that defines her distinctive, confident voice. I think we'll see her develop into a classy comedian, but the stars weren't aligned for her tonight.
Jan Ravens introduced character comedian Rose Robinson as a successor to Morwenna Banks, the former Absolutely star now co-writing Damned with Jo Brand, and that seems an appropriate comparison. Here Robinson played a nerdy first-time speaker to a local supernatural society, describing some of her encounters with the possibly paranormal. The yarns she spins keep you interested, and she has a nifty knack of revealing only one side of the conversation with some of the group's other members, leaving the listener to imagine the rest, like Joyce Grenfell's most famous routines. Robinson's alter-ego herself doesn't especially stick in the mind, but she has strong storytelling skills and a handful of decent gags.
Ending the night was Dutchwoman Micky Overman, who for my money was the most accomplished comedian on the bill, as demonstrated by a smart turnaround in her material about her relationship, achieved after successfully misdirecting the audience with a convincing dummy move. Her subsequent take on vampire novels elicited plenty of cries of 'ugh' from a disgusted audience, but mixed with laughs for what was strong, funny material. Maybe the potentially icky content divided the judges, or the fact that she spoke about periods, possibly perpetuating a false stereotype that's all female comedians ever talk about, that denied her the title. But she would have deserved it, as she has a keen comic mind.
As the judges deliberated, the finals of the comedy shorts award were shown: Tinder Finger by Lolly Jones, a well-made but comedically obvious music video about swiping left; Mary Berry's Little Lamb, a subversion of Mary Berry's sweet image by Kirsty Mann; the quirky and bitter-sweet Ambition by Carolyn Goodyear, which won the prize; and Manhunt, a rambling and impenetrable six minutes of Christine Entwisle playing with a doll's head. Watch the shortlisted films here.
Finally, the writing award for comedy scripts went to Carol Walsh, for a treatment she wrote called Savages.
Review date: 29 Sep 2016
Reviewed by: Steve Bennett
Reviewed at: Koko
Recent Reviews
What do you think?