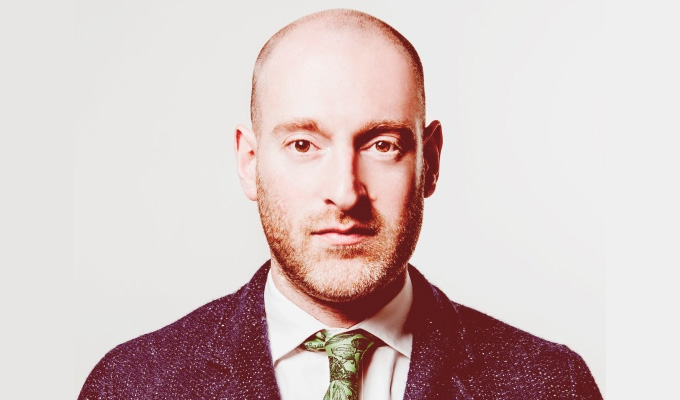 Henry Paker: Guilty
Note: This review is from 2016
This is rather a curious return to the Edinburgh Fringe for Henry Paker after a year off. He's ditched the stand-up, and returned to telling a single, tall tale, reminiscent of his previous shows Cabin Fever and Golden Lizard (his 2009 show with Mike Wozniak).
Guilty is the story of Paker's life coach, Paul, who hurled himself out of a window to his death. Was it suicide or was it foul play? Paker visits some of the prime suspects – the rival life coach, the ex-wife, the osteopath and the food blogger – to try and find out.
And there's more – at the same time of Paul's death, Paker suddenly stopped being able to draw hands. Paker is a children's illustrator and writer away from comedy, and his sketches form part of the show, one of the many reasons why Guilty stands out from the crowd. His increasingly elaborate ways to disguise his new inability are depicted on a screen, while he periodically takes to a landline to speak to his exasperated US publisher.
Paker sets a faux-noir tone, his style of completely deadpanning a slightly surreal situation bringing to mind Leslie Nielsen (in fact, Paker could easily pass as an off-duty copper). But the show is distinctly his own – I can't imagine anyone else creating it. It could only come from the mind of someone who writes children's books, with its vivid characters and its anarchic connections.
The fanciful nature of it all means a fresh twist is never far away. At one point he really cuts loose, with a side-story of a man who goes to Paker's new life coach with the dream of piloting Lenny Kravitz's body and taking over his life. It's a delightful thread that spins out to an unexpected climax, and reprises later on.
Rumbling along in the background of all this is the idea of 'Max Henry' – the alternate version of himself who's fulfilled his potential. That was why he was seeing a life coach in the first place. Is that a bit of real life peeping through? Does Paker feel he should be doing better than he is? Pound for pound I think he's one of our most talented comics – there's very little he can't do – yet he's not exactly packing out the Assembly Gardens Box.
Guilty isn't a wildly hilarious show, but it is a gem, constantly amusing and engrossing, intelligent and rich. His blend of strange and accessible is similar on paper to what James Acaster does to great acclaim.
I don't think anyone would begrudge Paker even a tenth of Acaster's audience if he keeps on producing quality shows like this.
Review date: 23 Aug 2016
Reviewed by: Paul Fleckney
Recent Reviews
What do you think?