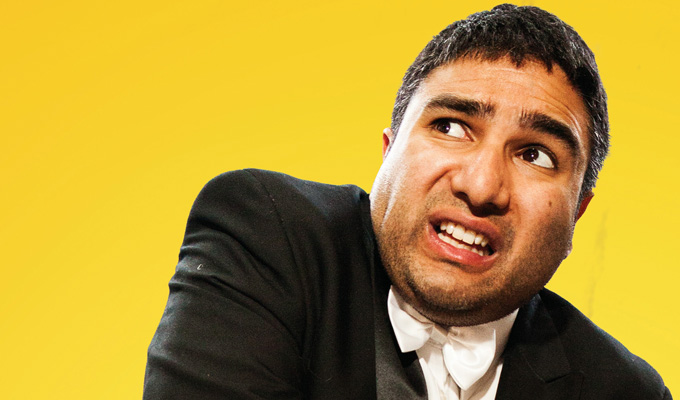 Mr Swallow – Houdini
The most spectacular feat in Mr Swallow's Houdini isn't the water tank escape at the end, impressive as that is for a Fringe show, but the fact that Nick Mohammed has come up with an almost entirely new way to present the centuries-old art of magic.
We're familiar with the slick, Vegas-like showmen, the moody street magicians or comic versions mocking the cheesiness or deliberately fumbling the conjuring. But here, Mr Swallow is a prestidigitator amazed at his own abilities, shrieking in delight and bewilderment at the old cups-and-balls trick that he's managed to pull off, but not sure quite how or why. It's a brilliantly funny scene in a show that contains several priceless moments.
Houdini is the second musical from Mohammed's strange creation – a bizarre, spoilt-child mix of raging ego, wittering vacuity, impatient bossiness and naive excitability – following 2014's take on Dracula, and just as daft.
It is, of course, a parody of bad musicals with an execution that goes wrong. But the tunes would actually hold up pretty well in the 'real' theatre, and are presented with a brisk, if loose, choreography to spice up the energy.
Meanwhile, the planned mishaps are mostly generated from Mr Swallow's peculiar personality, rather than things that just happen to go wrong, giving a bit more context. Tonight, there was a genuine problem with a head mic, but the mood is right to turn that into great slapstick, thanks to Mohammed's physical comedy instincts and the quick comedy thinking of David Elms, playing one of two stooges Mr Swallow can browbeat. The other is Kieran Hodgson, subjected to various ignominies in the name of entertainment.
The musical takes a cursory look at the great escapologist's biography, but mainly serves to build up tension for the big, watery finale – and engineer a standing ovation while we're at it, as the main musical refrain is about how the audience rising to their feet makes every sacrifice worthwhile for the performer.
There are probably a few nips and tucks needed – a seance scene especially, strays way off topic, and takes a long time about it; a jokey acknowledgement of the fact not enough to justify it –but mostly the writing is a potent mix of the sharp and the silly, all wrapped up in this bizzarely compelling man-child of a character.
The inescapable (apologies) conclusion is that Houdini has great laughs, a real sense of silly fun, and decent spectacle to satisfy your entertainment needs.
Review date: 12 Aug 2016
Reviewed by: Steve Bennett
Reviewed at: Pleasance Courtyard
Recent Reviews
What do you think?