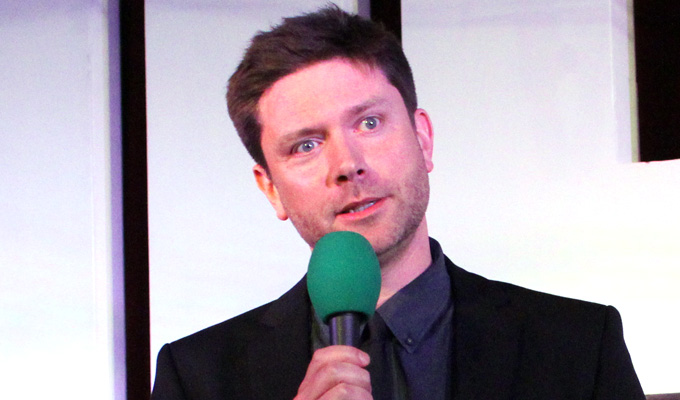 Welsh Unsigned Stand-Up Of The Year
Note: This review is from 2016
So, to the Glee Cardiff, probably every stand-up comedian's favourite club, for the sold-out final of the Welsh Unsigned Stand Up Of The Year 2016.  There were six finalists, all with only a couple of years on the clock and brimming with energy, confidence and potential.   Charismatic Ignacio Lopez compered the proceedings with  waspish charm, keeping the burly drunks who elected to hog the front row under control with a mix of coaxing and smart put-downs.
Opening the batting was Luke Catterson who had some interesting and funny lines that got slightly mangled by a nervous delivery. His boy-next-door demeanour masks a more tetchy character who pushes to the fore and drives his comedy forward.  A couple of hack topics sit alongside a willingness to risk darker subjects delivered with a lightness of touch. 
Next up was Iris Evans, a character act by Karen Sherrard.  An unshakeable battleaxe  of Hyacinth Bucket proportions in headscarf, walker and big glasses, the bullying Iris's pungent audience  interaction was compelling, up to a point.  Down the road she may hold  her own as a compere – that was the role she'd taken on as the village fete-announcer  – and her confidence was great, but ten minutes at the same pitch was enough, more light and shade in the delivery is required to stop this running out of steam. I can see how she does very well in Wales and earned her place, but probably requires more gags for the act to travel. 
Jethro Bradley had the sweet spot just before the interval, but was head and shoulders  above the rest of the competition, and would have won wherever he'd gone in the line-up.  With a density of gags, changes of pace and direction, creating and dispelling awkwardness, he's also got a fluid physicality that complements his gag writing without ever being manic or irritating.  A deserved winner in a strong bill.
Jeff Japers worked hard for his laughs with projections, sound effects, organ playing and an air of approximately synchronised mayhem.  Deliberately cheesy and unslick, a mixture of dad comedy and John Shuttleworth on Pro Plus, he garnered some big cheers but  made me want something less cheesy and more polished. Being ironically amateur is all very well; but it seemed very effortful and tech-heavy for ten minutes of simplistic rhymes and 70s icons. The audience, however, loved the daftness of it.
Next up Sarah Breese was probably the least experienced of the bunch, but she seemed very comfortable in the space with perky delivery. Blessed or cursed with looking about 15 years younger than she is, she had the new act  'what do I look like' trope down to a T.
 She squandered valuable gag time on baiting the judges and drawing attention to the fact that this was a competition, whereas I am sure her prepared regular material would have done her more justice than the clunky pretend blackmail attempt. 
More experienced competition finalists know  to stick to their best ten rather than do something that seems a good idea at the time. However she'll probably be in another competition final soon, so she'll know for next time.
Last up,  Stefan Evans, a roaring boy if ever there was. I can't wait for his material to catch up with his confidence and energy, which was impressive, but there was way too much poo and aggression and spluttering rage. He was very like a comedian, which isn't sarcastic – he had well-observed audience control techniques and slamming putdowns and properly owned the stage,  ending the night with a bang, but the cathartic fury of it all somehow hindered him communicating anything personal and funny and it was all in the shock factor. He must have had a dozen 'I look like this thing and this other thing that's pretty unappealing'  gags, and the fact remains he looks perfectly good and not strange and just one of them would have done. He was also the only person who overran. Harness some of that wild energy for writing and calm it down, there's something there.  
All in all a strong final, nobody had a bad gig, Jethro Bradley was a speedily and unanimously voted winner and the other five formed a comedy peloton of some force.   Previous winner Matt Rees closed the night and was sheer class, looking more at ease than I've ever seen him and losing not a jot of his comedy chops for seeming happier.
Review date: 2 Aug 2016
Reviewed by: Julia Chamberlain
Reviewed at: Cardiff Glee Club
Recent Reviews
What do you think?