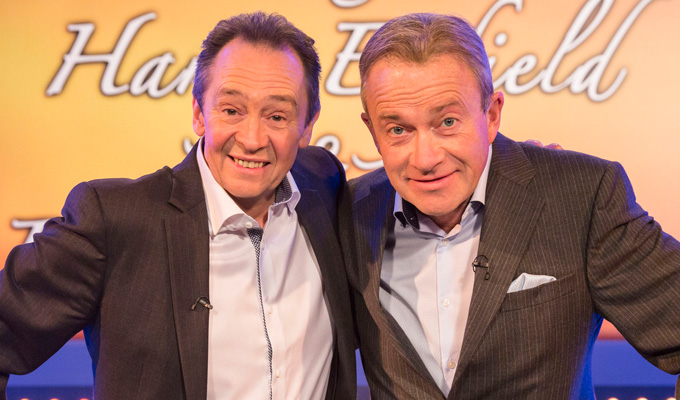 An Evening with Harry Enfield and Paul Whitehouse
Note: This review is from 2015
After last year's brilliant Story Of The Twos to mark BBC Two's 50th birthday, Harry and Paul return to the channel to honour another great institution: themselves.
But An Evening with Harry Enfield and Paul Whitehouse is not the simple 'audience with' clips show it first appears as they turn their piercing social satire on themselves.
The tone was initially celebratory, and rather than focussing on their most famous creations, served to remind us of characters from more recent series such as Ruddy Hell It's Harry and Paul, which they admit didn't catch on in the same way as Wayne And Waynetta Slob, Kevin The Teenager and The Self-Righteous Brothers ('Oi! Enfield! No! ')
The older characters got a look-in, of course, not least DJ Dave Nice, newly acquitted of all (but one) of the charges against him. A flashback sketch from 1992 with his old mucker Smashey doing a lot of work for charidee in a hospital proved, as Whitehouse said, how 'ahead of its time we were about elderly people hanging around where they shouldn't'. Saviletastic, mate.
Yet although the catchphrases of later series did not capture the imagination of the nation in quite they way they did when 13million viewers tuned in, this footage served as a timely reminder that they remain brilliantly funny in middle age – with playful Dragon's Den parodies and the so-wrong-its-right sketch showing Nelson Mandela advertising drugs. And the best of their work captures archetypes that prompted Simon Sharma to call the pair 'social historians of the highest order'.
Not the real TV historian, you understand, for the celebrity audience comprised a series of hilarious, spot-on impersonations grotesquely capturing the likes of Jimmy Carr's irritating laugh, Ian Hislop's twisted expressions of distain, swearing Stephen Hawking and Wolf Hall's Mark Rylance sitting in the dark and leaving long…. pauses… between… words.
But to break it up there was one 'genuine' member of the public who asked: 'I prefer your early work not the shit you do nowadays,' prompting a sea change of opinion against the comedy duo among the audience. Accusations that they are misogynistic, racist homophobes who sneering at the poor and the Northern (Exhibit A: The Scousers) flew thick and fast – and with evidence to back it up.
Seemingly skewering Ricky Gervais over Derek, they had him cast a typical knowing glance before asking: 'Have you ever taken the piss out of mental people for laughs?' And the video proved they had. The atmosphere, which was already slightly odd because of some stilted editing, turned decidely sour, in an inspired twist.
Yet after discovering how awful and offensive their work really is, you'll still be left marvelling how innovative, hilarious and bitingly relevant Enfield and Whitehouse are after 25 years together. For behind the catchphrases there's astute observation, expertly funnelled into comedy. Can't wait for the live tour this autumn…
Review date: 31 Aug 2015
Reviewed by: Steve Bennett
Recent Reviews
What do you think?