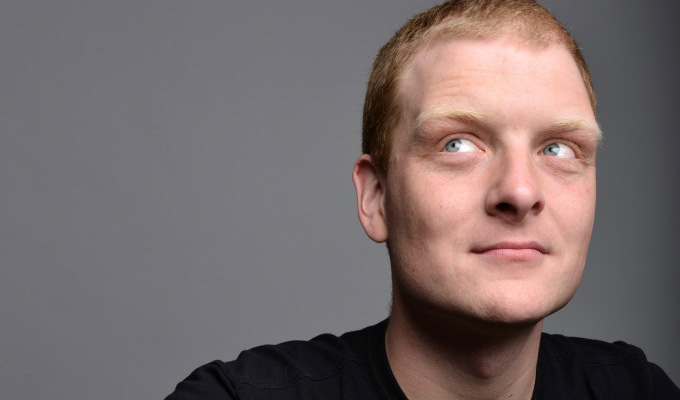 John Hastings: Marked From The Start
Note: This review is from 2015
Perhaps ironically for someone who suffers from the coordination disorder dyspraxia, the word that best describes John Hastings' work is neat. He has some neat analogies, neat descriptions and neat yarns, which are all brought together in one neat conclusion. Seems pretty well co-ordinated to me.
With such talents, the affable storyteller keeps us entertained through this hour about his family, and being something of a misfit. There are smart jokes about everything from emo kids to boogers, a dead-on Batman-based analogy for the older generation's approach to fatherhood and much more besides. And it's all delivered with consistent, mildly self-deprecating tone that hits its peak with a confession of awful post-sex chat.
Yet there are some odd contrivances, too, not least the meandering shaggy-dog story that sets up an in-joke, which he rather ambitiously claims 'held us together as a family' in a recurring motif. It's not quite the only anecdote that struggles to justify the significance Hastings ascribes to them in the cause of setting up a wider narrative.
'Marked from the start' refers to him being born three months prematurely, though it did not stunt his physical growth. But in a more metaphorical sense he doesn't measure up to others in his family of achievers, his dad being a former under-secretary to the Canadian Prime Minister.
His issues with fitting in extend Back To School maths classes, struggling to keep up with the rest of the top stream he was placed with. And older, he doesn't fit with the mentality of the dudes and bros of his circle – a position a good many future comedians (and a lot of their audience) would surely have found themselves in.
The various anecdotes are brought to life with Hasting's relaxed charisma, even in the face of adversity. His dyspraxia, he explains, is why some of his sentences fall apart as he says them – not ideal given his job – but he produces one of his many nice analogies after screwing up one particular joke. Since he holds the audience rapt, with his easy-going charm forming a intimate connection, we appreciate the honest and forgive the snafu.
Indeed, Hastings makes a lot of friends in this hour, even if his greatest lines don't coalesce into a fully compelling hour.
Review date: 30 Aug 2015
Reviewed by: Steve Bennett
Reviewed at: Pleasance Courtyard
Recent Reviews
What do you think?