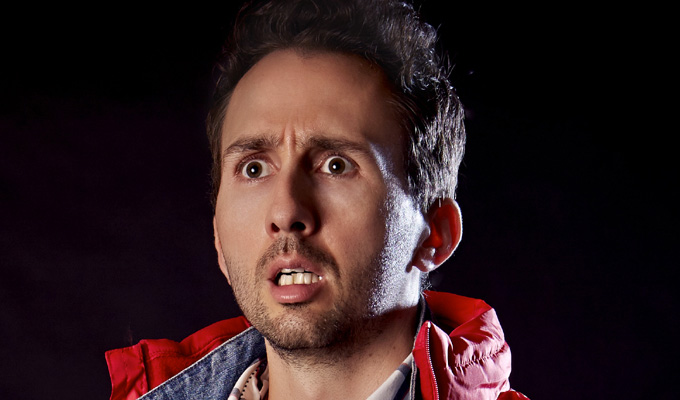 Nathan Cassidy: Back To The Future II
Note: This review is from 2015
Nathan Cassidy has a difficult gig tonight. The entire second row is pissed… and there are only two rows of audience. They're not aggressive drunks, just 'confusing a performance for a conversation' drunks, interjecting after every line with what they probably believe to be jokes. Cassidy keeps returning to them, too, which seems to encourage it – though I suspect they could never be ignored.
Still, it's possible to pick out the show from the rubble of what happened. And first thing you should know is that Back To The Future plays only the smallest of roles in the show. Instead it's about sequels in a much broader. It's about Cassidy being a father, producing two human sequels to himself, and about whether there's an ultimate sequel: reincarnation.
There are strands about his pedestrian taste in food, the Titanic, TV quiz Pointless and trip to the London Wonderland where a psychic's prediction seems to be coming true. Even without the interruptions, his train of thought is sometimes difficult to follow, as there's no real clarity in the separate bits, nor how they should connect. But like a kid with a puzzle that's not fitting together, he just rams the components into each other hard enough until they kinda work.
The result is a noisy hour, where you can hear overtures about his midlife crisis, mixed in with all the other angles. His technique jumps around a fair bit, too, sometimes conversational but sometimes using Stewart Lee's technique of sarcastic repetition, but it seems forced. He shows off some rapping that injects some energy into this late-night sweatbox, even if it's not strictly necessary to the narrative.
But he also has a very irritating vocal tic of seeking affirmation after almost every statement, with a 'yeah?' or 'right?' coming out almost every time he takes a breath. It's surely subconscious, but it makes him sound very David Brent, and a bit patronising.
There are some nice vignettes: the tragedy of the comedian carrying on as the Titanic went down as opposed to the heroic dignity of the band was a special highlight. But it seems he's got ambitions to put these elements together for a clever, multi-layered show, which is where he gets unstuck. In the end, he has to resort to a cop-out that was clichéd when you used it in that primary school essay – and that can't have been the best option.
Review date: 25 Aug 2015
Reviewed by: Steve Bennett
Reviewed at: Gilded Balloon Teviot
What do you think?