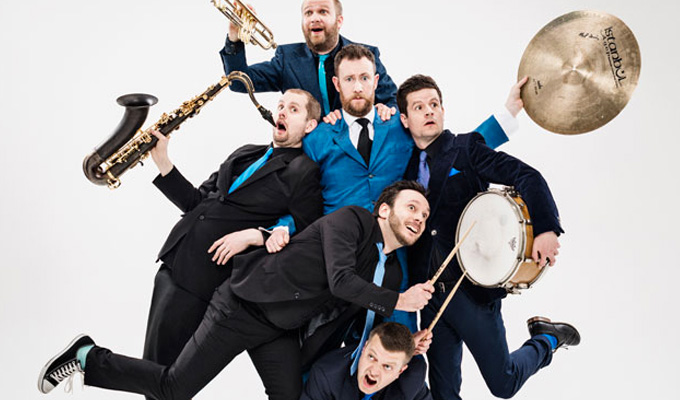 Horne Section's Questions Sessions
Note: This review is from 2015
It combines the three greatest forms of live entertainment: comedy, music, and quizzes, so The Horne Section's latest format should be a guaranteed big-hitter.
But in reality, the execution of the Question Sessions is too loosely chaotic, with energy that ebbs and flows, for it to be the dependable late-night blast it could be. But there are, as always, enough delightfully eccentric gags and silly interludes – both musical and not – to entertain. If this were for telly, surely the shambolic 75 minutes would edit into an hilariously tight 30.
It is the contestants rather than the band that take centre stage – after quizmaster Alex Horne, of course.Tonight it's Ed Gamble squaring up against John Lloyd, which Horne plays up as a battle of the generations.
As well as the simple – if rarely straightforward – questions, challenges include writing a song based on one audience member's life, racking up as many steps on the pedometer as they could in a minute – and the old favourite, audience Battleships, all played, not for points but fruit, to be weighed at the end. During the lyrics round Lloyd seemed to give up – as it certainly didn't play to his strengths – but it affected the subsequent equilibrium of the show, as Gamble retained a steely competitive edge behind his cheery exterior. He even took performance-enhancing drugs, quite blatantly. Well, insulin for his diabetes…
Horne – whose previous foray into the quiz show format was We Need Answers with Mark Watson and Tim Key – keeps proceedings wonderfully unpredictable with the help of his band, talented musical improvisers all, and probably underused here. Setting one song to the tune of another was a particular highlight, in true I'm Sorry I Haven't A Clue-style, as was Horne's rendering of the original lyrics to a couple of pop classics.
So there's plenty of odd moments to enjoy, especially the hilarious climax, and different competitors each night means results will vary on this quirkily entertaining show.
Review date: 24 Aug 2015
Reviewed by: Steve Bennett
Reviewed at: Gilded Balloon Teviot
Recent Reviews
What do you think?