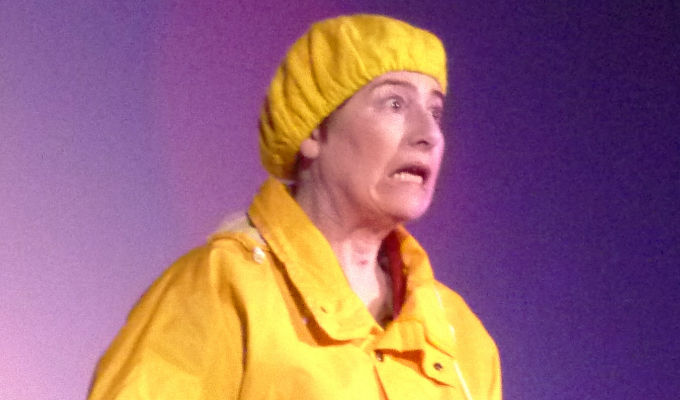 Victoria Wood And Me
Note: This review is from 2015
Well you can't knock the material. Victoria Wood gave Mo Shapiro permission to use her classic sketches, characters and songs in this affectionate tribute.
Though it's normally a piece of theatre, Victoria Wood & Me is essentially an hour of cover versions. The premise is that Mo Shapiro is playing Gladys Winter, who is Wood's No 1 fan, born at the same time and in the same hospital as her heroine – 'we're practically Twins'. But despite the addition of a needless extra layer of fiction, it's a very light construct, with the scantest of lines to move between the proven scripts.
If you are a fan of Wood's you will most likely already be familiar with songs such as Pretend To Be Northern or the Reincarnation Song; or scenes such as 'Welcome to the world of Sasharelle', set in a department store cosmetics section; or the aerobics workout. And if you're not au fait with her work, this is a solid 'greatest hits' introduction to the beautiful use of language and skilful characterisation – even if references to the likes of Fresh Fields and David Bellamy, peculiar in their specificity even at the time, will go over younger heads.
Shapiro – or is it Winter? – makes a decent job of the various comic personas, though she's a bit too deadpan to bring the songs to life. She seems to treat the work with a bit too much reverence, not showing the same verve and playfulness Wood instilled in them. This may be a consequence of singing to inflexible backing tracks, rather than playing the piano herself – though she does have the diction needed to deliver some of the tricksier, pacier lyrics with clarity.
So it's a hard show to rate; as the writing is impeccable and the performance more than serviceable – but there's not much added value from just popping a DVD on.
Review date: 23 Aug 2015
Reviewed by: Steve Bennett
Reviewed at: Gilded Balloon Teviot
Recent Reviews
What do you think?