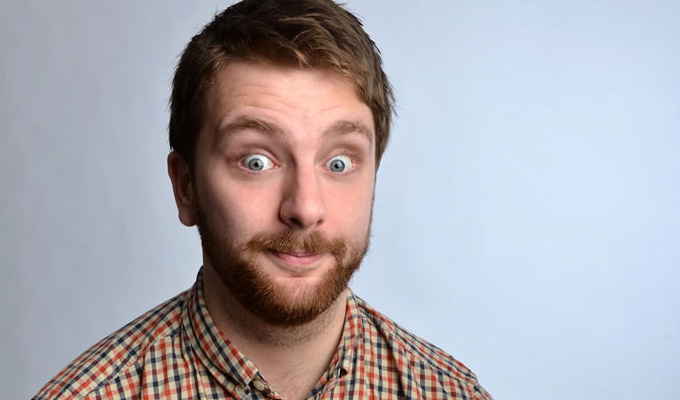 Pierre Novellie is Anxious Peter
Note: This review is from 2015
Pierre Novellie's show is about anxiety. I know that because of the addendum handed out at the end: a short, odd document explaining the themes, messages and structure of the show – and why he didn't spoon-feed these ideas to the audience. You can also tell it's about anxiety because of the word 'Anxious' in the title.
If the handout, which Novellie describes as a 'leaden stab at self-justification' seems needlessly defensive, it's because it wasn't intended for people like me; just those who DIDN'T enjoy the show. That's probably a pretty small constituency.
For Novellie is a commanding but casual performer with some great stories, both real and imagined, and a cunning way of telling them. You probably won't notice whether you can spot a theme or not, just be carried on his good humour.
He has a fascinating background to mine. For starters, he spent the first seven years of his life in South Africa, in a fortress of a house to protect against Johannesburg's active criminal element. That unusual situation sparks a couple of surreal trains of thought, one inspired by the security; the other by the odd experience of witnessing Spiderman cartoons dubbed into Xhosa
His stuff's relatable even when you think it shouldn't be. On one hand he manages to cover Tinder, 2015's go-to stand-up topic, with originality, on the other he manages to harness his Cambridge degree in Anglo-Saxon, Norse and Celtic Studies, which you'd think would be pretty useless in a comedy situation. But no, it inspires a bit about the introduction of Christianity to the Vikings which pulls off the Eddie Izzard trick of being well-researched (there's even a citation in the programme) while also allowing a flight of make-believe.
Despite his intelligence and authoritative voice, he's warm and likeable, his amusing and mercilessly self-deprecating confessions about being a lamentable fast food addict only endearing him more, especially as it's a very strong bit of observational stand-up.
Accessible but smart, Novellie has nothing to be anxious about when it comes to how this show will be received.
Review date: 22 Aug 2015
Reviewed by: Steve Bennett
Reviewed at: Pleasance Courtyard
Recent Reviews
What do you think?