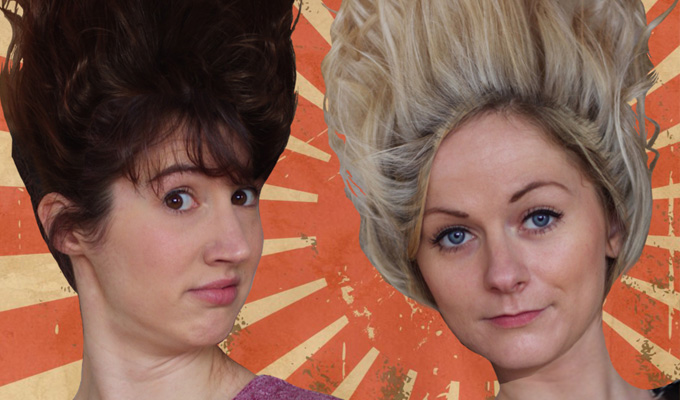 Franks and Skinner Present Myself and Myself
Note: This review is from 2015
The voice of Frank Skinner tells the audience that this show is definitely not about him. What Franks and Skinner's show is about remains a deliciously bonkers mystery.
It doesn't matter that most of their sketches lack an obvious punchline: the pair's enthusiasm is infectious. They tease, yell, gurn, and leap about as if on a huge caffeine high, giving a little bit of everything including singing, dancing, mime, rap competitions, and chat shows. They even attempt a game show, paying homage to the late Cilla Black with their quirky version of Blind Date.
They are in constant sync with their words and movements; a sketch comedy version of Fred Astaire and Ginger Rogers. They even choreograph their 'mistakes' such as the malfunctioning fangs which drench the front row in vampire spit as they tried not to get the giggles.
Franks and Skinner like to roam about off stage as much as on, to include the audience in the randomness, so don't think hiding at the back will save you. They weave through the crowd asking questions, stealing personal belongings to use as props, or dressing people up using items from their own wardrobe. Not that Franks and Skinner are lacking in props or costumes – both sides of the stage are awash with hats, scarves, and wigs.
A recurring sketch about the London Underground sees the pair dressing up the most, recreating their favourite Tube lines. Their colloquialisms might go over the heads of the non-UK crowd, but the visuals still generate laughs.
Anyone expecting this show to have a point might be disappointed to find there isn't really one. This is about taking a peek inside the heads of Franks and Skinner's broad, colourful and zany imagination. Just sit back and enjoy their multi-costumed mayhem.
Review date: 19 Aug 2015
Reviewed by: Helen Ackrill
Reviewed at: Just the Tonic at The Mash House
Recent Reviews
What do you think?