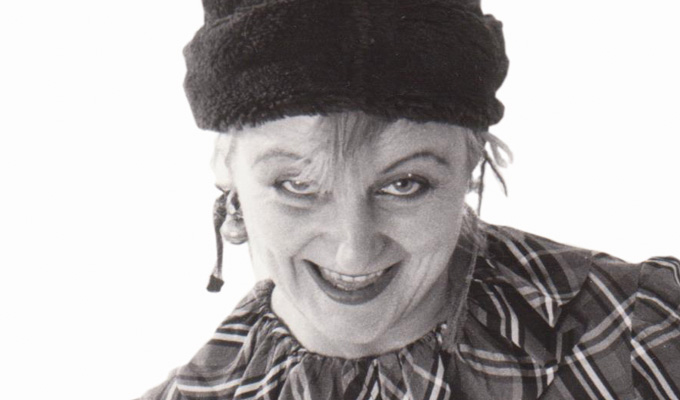 Charmian Hughes: When Comedy Was Alternative
Note: This review is from 2015
In her story about the origins of alternative comedy, Charmian Hughes takes us back more than 30 years, when she stood in front of rooms full of people and struggled to make them laugh.
How times have changed. Now the room's not full…
But the struggle is still on and sadly she doesn't raise much more than mildly amused smiles from this sparse audience, as her show never really connects on a personal level. But at least we're polite, not like the Tunnel Club's notoriously brutal crowds.
Her descriptions of the early days of the movement give a fair impression of what the London circuit and Edinburgh Fringe was like in the mid-1980s, but there's a lot of punkish spirit of the age that she doesn't recapture. Possibly because most of those stories involved legendary club-runner and MC Malcom Hardee ('the Falstaff of alternative comedy,' Hughes calls him), and have been told ad infinitum.
Hughes started off as Teatro d'Existentiale, an absurdist clown act playing now-legendary venues such as the Earth Exchange vegetarian cafe in Highgate alongside fellow weirdos including Steve Murray, whose act involved torturing teddy bears, or The Ice Man, who would attack a huge block of frozen water. It's nice to recall these folks, as well as odd snippets of information, such as the fact Eddie Izzard used to be in a double act with a guy called Rob Ballard, while Hughes also has a modestly amusing anecdote about her dog ruining an Arnold Brown routine.
She runs a scatterbrain story of her personal life alongside the professional (well, professional-ish) ones; but these sections really struggle. For example, she once tried to 'bonk' Sean Hughes cos they have the same surname and he turned her down. She did hook up with Dave Thompson for a while – later to inhabit the Tinky Winky costume on Teletubbies – and the main story of that was that the Tunnel mob hated them both…
I enjoyed being taken back to those times by an affable speaker, but wanted to hear more of the personalities, rather than dead-end anecdotes. For there clearly was something in the air at that time; a revolutionary spirit that helped topple the old generation of hack, mother-in-law comics, that can never be recaptured. For I wonder how many of today's career-minded comedy hopefuls will still be coming back to theFringe in 30+ years if they haven't hit their five-year plan to get on Mock The Week.
Review date: 19 Aug 2015
Reviewed by: Steve Bennett
Reviewed at: Banshee Labyrinth
Recent Reviews
What do you think?