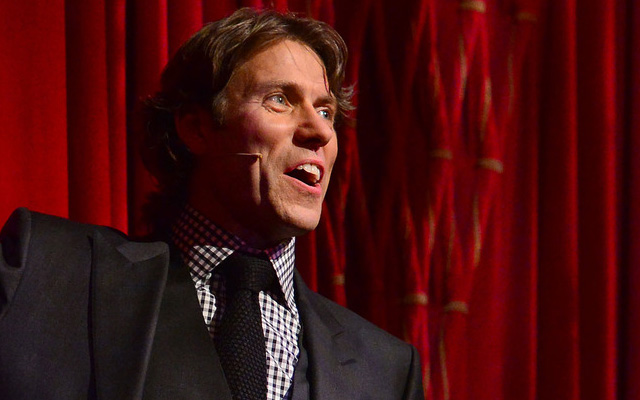 The John Bishop Show
Note: This review is from 2015
The boilerplate for The John Bishop Show is as standard as they come. Affable everyman host, shiny floor, neon lights in the background, a succession of slick stand-ups flawlessly edited - there's very little to separate this from any other Sunday Night At The Apollo Stand-Up Roadshow Central-type offering.
There is, like ITV1's Sunday Night at the Palladium – and of course, Britain's Got Talent – a variety element. Right from a cold start, acrobats from the Circus troupe fill the Hackney Empire stage, with Bishop putting himself in the thick of it. 'How good is that?' he chuckles. 'I start the show with a kid on my head!'
He couldn't do the same with his own adult kids, he says – a cue for his well-practised family-orientated stand-up shtick, griping good-naturedly, and like so many middle-aged dads, about the liberties his boys take.
This opening monologue proves an effective ice-breaker for this, the first of an eight-part series. And while Bishop is Mr Accessible, as much presenter as comedian, the acts he shares the stage with offer a more interesting edge. The show is made by his own production company Lola, who are keen to stress that the guests are 'hand-picked' by the host – as, indeed, Michael McIntyre picked his Roadshow line-ups.
Most quirky of tonight's acts is multiple Edinburgh nominee James Acaster, who has put on a jacket for the occasion, rather than his usual ill-matched sweater outfits. Bookers of other TV showcases could hopefully take courage from the fact that, although offbeat, his distinctive line of mild-mannered, whimsical comedy about outwitting both genies and ice-cream loving kids proved a deserved hit with the audience.
Before him came Felicity Ward with some relatively edgy material for primetime Saturday night, as she described her run-in with a fundamentalist Christian making vile comments about abortion – but she handles the routine deftly, combatting nastiness with playfulness. Unusually, the editor left in one peculiar, unscripted exchange – in which a member of the audience appeared to cheer in favour of a racist sentiment, retaining at least a flick of the unpredictability that makes live stand-up so vibrant but is usually left on the cutting-room floor.
Race – or at least colonialism – was the cornerstone of comedy headliner Trevor Noah's act – a booking that's something of a coup. Although The Daily Show is no longer aired here, after Comedy Central dropped it from their schedules, his appointment to the top job in fake news gives him an international kudos. And his take on his topics – with more than a touch of Eddie Izzard in his recreation of British invasions – is hopefully a taste of the intelligence and opinion he'll bring to his new telly job.
Further variety elements were provided by Beardyman, offering a witty commentary as he showcased his talents for beatboxing and creating improvised songs, and Bishop's childhood musical hero Paul Weller.
But it's the sort of comedians booked on tonight's bill which suggests that The John Bishop Show does have something different to offer the genre, even if it otherwise looks and feels like so many other mainstream shows. The guest policy is probably never going to be totally 'out there' – but at least it's showing some of the diversity in the live circuit, beyond the same old panel-show faces.
Review date: 30 May 2015
Reviewed by: Steve Bennett
Recent Reviews
What do you think?