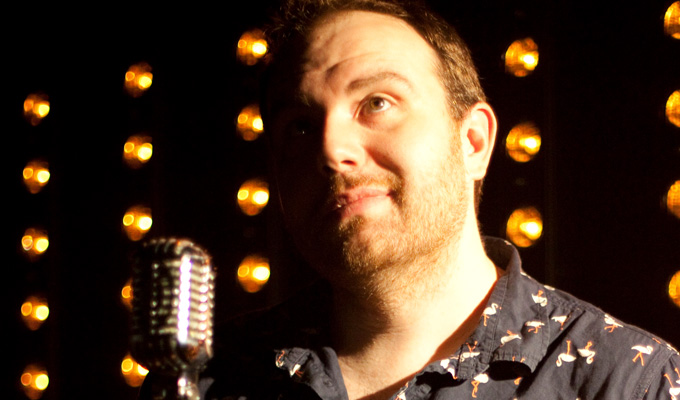 Phil Buckley's Big Idea
Note: This review is from 2015
This is supposed to be a review of Phil Buckley's Big Idea, currently touring small venues. But it's not.
It's a review of the audience who came to see him in the basement of the Leicester Square Theatre last night. An audience the likes of which I've not seen in 15 years and maybe 5,000 shows – so self-obsessed; so keen to make the night about them; so insatiably eager to chat among themselves that in a whole hour Buckley was unable to do more than a couple of jokes he'd prepared.
The entire front row was a work's leaving do nipping in for an hour of comedy between the pub and the burlesque bar. They bought their own in-jokes. One of them was from Wales, so you can imagine how funny that was to them.'Do jokes about that,' they goaded Buckley. 'There's nothing wrong with coming from Wales,' the comic protested, offering a little suggestion that years of ingrained office banter might be built on sand. They ignored it.
Then, in the second row, was a couple unrelated to the main party. Yet the woman was even more keen to be the main conversation-starter. Early doors, Buckley mentioned Salford – cue a long, rambling digression from the darkness as this punter held court about how there's a village Salfords in Kent. Fascinating. She later got involved in a more tense exchange with one of the three paying punters who were not party of the Gobby Squad, after he called her out for racism for randomly spouting the terms 'gyppo' and 'pikey'.
Don't think these were isolated incidents. Every rhetorical question Buckley asked spawned a vocal discussion group. And not even questions. When he said he had a wife, the cry came back: 'What does she look like?' Followed by 'Bet she's a munter!' 'A Munster?'. 'No, a munter. Munter.' No statement was allowed to pass without the full crowd lobbing their ha'penny-worth, any potential gag submerged under a weight of competing voices and parallel conversations.
It was a reversal of the old heckle putdown. Don't you hate it when you come out to a comedy club and they build a conversation around you? 'Crack on mate,' came up the occasional, patronising cry, supposedly supportive but ironic since it came from the people who so derailed the show. But there was no abating.
A couple of times Buckley managed to keep order, but the attention spans were so brief it never lasted. No one could stand more than a minute without being the centre of attention. This happens in clubs, of course, but usually the disrupters are in the minority, so don't overwhelm the show – even if the peer-pressure from others or quiet word from a bouncer doesn't shush them. Here, almost none of the audience seemed fussed by hearing the show they paid for.
There was nothing malicious about their constant interruptions, they just wanted a private do in which all the jokes were about them. And they all went home happy, although that might well have been the case without Buckley's presence, much-ignored as it was. So with a vast majority of contented punters, the comedian's job to entertain is done, whether or not it was with any material.
Buckley, who was literally lost for words at the wall of noise he faced at every turn, doesn't need to be forgiven for not gaining control. It would have been an impossible task and alienated the paying punters. Good-naturedly rolling with the many punches after it was clear the gig was beyond his influence was the wise option.
For the small minority of us who wanted to see the show, we had to go home frustrated, but with memories of the strangest of gigs and the most good-naturedly awful of audiences. What's Phil Buckley's Big Idea? I guess we'll never know…
Review date: 1 May 2015
Reviewed by: Steve Bennett
Reviewed at: Leicester Square Theatre
Recent Reviews
What do you think?