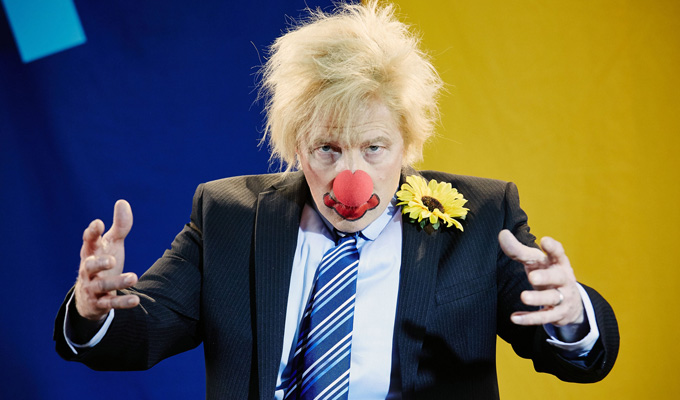 Rory Bremner's Coalition Report
'One election every five years seems old-fashioned,' says Rory Bremner, commenting on the world of instant opinion.
But his brand of political comedy has not been on screen for even longer – eight years, save a Scottish referendum special north of the border in 2013. It's something of a drawback for the putatively topical brief of his Coalition Report. Playing romantic music over footage of David Cameron and Nick Clegg forming their union together… it's a bit 2010, isn't it?
In many ways it was like he had never been away. The tone, as always, is a little bit establishment, like a broadsheet parliamentary sketch writer, making cheeky but ultimately inoffensive jibes at the older boys. Much of political commentary is played for jokes now, and Bremner frequently doesn't have a sharp enough edge to properly skewer his targets… He might be a landslide ahead of the supposedly humorous segments on shows like The Daily Politics, but compared to the insight of John Oliver, Jon Stewart or Charlie Brooker, his mocking is gentle.
Other tropes from his career are present and correct. He comments on politics like it was football, imagining a transfer deadline day for defectors, and even rolled out his Michael Howard impression – still beautifully sinister, however irrelevant to today's government.
The one thing that was missing, of course, was the late John Fortune, his two-headers with John Bird always a highlight of previous Bremner shows, exposing the selfish thinking of the supposed great and good. Bird had a couple of brief monologues here, but couldn't hope to go as deep as previously.
As well as hailing back to preceding satirists, Bremner also looked forward to the next generation, with Matt Forde as his studio guest, boldly stepping on his host's turf with a more than passable Nick Robinson impression. Forde's certainly good at spotting the behavioural habits of the politicians, and his description of Ed Miliband's evasion and peculiar oratorial style were astute.
Sara Pascoe appeared, too, playing someone just handed a zero hours contract, doing good work in making wryly salient points about the inequity of such arrangements. But some of the other filmed sketches seemed a little formulaic, doing a 'Have you been involved in a Coalition that wasn't your fault?' style ad about the government, for example. And the sound engineer was very heavy with the laughter track, feeling intrusive on some only moderately amusing lines.
Kudos, though, for the show's remix of the leaders' debate as an episode of The Weakest Link, with Jan Ravens as the winking Anne Robinson – the edits made fools of Clegg, Cameron, Milliband and Nigel Farage and is surely a viral waiting to happen.
But otherwise Rory Bremner's Coalition Report didn't, well, make much of an impression; amusing enough but relatively tame… perhaps a symptom of a relatively timid BBC, under more pressure from politicians than ever before not to rock the boat.
Review date: 3 Feb 2015
Reviewed by:
Recent Reviews
What do you think?