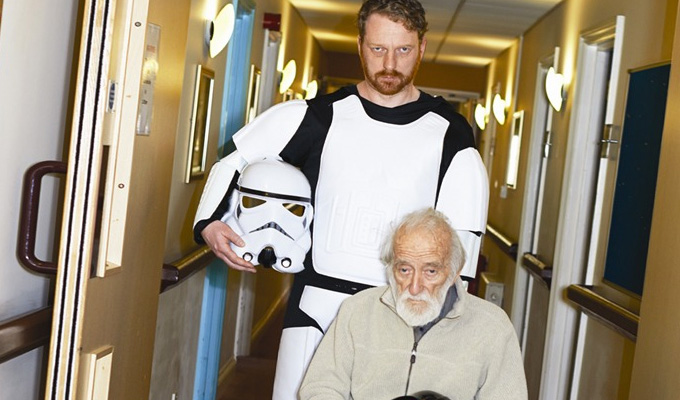 Kim Noble: You're Not Alone
Note: This review is from 2014
The main concern of Kim Noble's daring, provocative and morally ambiguous show is about trying to forge human connections with lonely, difficult people with whom you have little empathy.
It's easy to draw parallels with Noble himself, whose behaviour in this show is often unethical, if not illegal, to the point that we are specifically warned on our way in of 'offensive and upsetting' material. Yet it is worth making the acquaintance of this troubled and troubling man – at least via the the formalised setting of theatre – for the moments of strange tenderness and, surprisingly, the laughs.
Feeling desperately alone, an emotion exacerbated by the sounds of the couple next door having sex, Noble seeks to do good deeds for other neighbours, which might alleviate some of the guilt for spying on them. Then he tries to find romance by – what else – responding to some graffito on the wall of toilet cubicle at a motorway service station.
He creates a female alter-ego, Sarah, and embarks on an elongated prick-tease with both the trucker who left his number there, and another creep who hit on 'her' online. Noble shares the exchanges – everything he does is documented on film as we would struggle to believe him otherwise – and graphically describes how he created the X-rated pictures that would fuel his subterfuge. This comedy cross-dressing is a long way from Danny La Rue…
The tone is discomforting, exacerbated by Noble's dry monotone (no wonder he needs a pitch-shifter when he adopts the voice of Sarah) and a moody, dimly-lit staging. This is a show that starts with a film of a bluebottle in the decomposing beak of a dead pigeon, which Noble subsequently disembowels, and gets increasingly bleak and strange from there.
Yet the story is phrased in the language of comedy and is frequently funny, both for the audacity of his transgressive behaviour and for the preposterous situations he finds himself in during this bizarre experimental quest. Some are relatively harmless, such as posing as a B&Q or Ikea worker just to mess with people. Others, as he explores the reciprocal loneliness of the sexually aggressive men who leer at Sarah, feel like playing with fire.
Also explored is Noble's relationship with his father, with gives the show some heart. Noble Sr is suffering dementia, alone and desolate in an old people's home, and the visits from his son serve as an uncomfortable, unwelcome reminder of the downbeat message that we are born alone, and die alone.
Seeking some sort of surrogate, Noble tries to befriend Keith, who works the checkout at his local supermarket, although the relationship feels troublingly like stalking, especially given the hidden-camera footage shared with the audience. Again the comedian/artist crosses a line that few would.
You're Not Alone is a shocking show and a thought-provoking one, without being explicit in telling you exactly what to think – a welcome change after a month of stand-ups who semaphore their unambiguous messages, lest you miss them. Yet although this is not easy to recommend to everyone, Noble is funny in extremis, as he give the limits of comedy, and his audience's sensibilities, a good kicking in a show that will haunt you for days.
Review date: 22 Aug 2014
Reviewed by: Steve Bennett
Reviewed at: Traverse Theatre
Recent Reviews
What do you think?