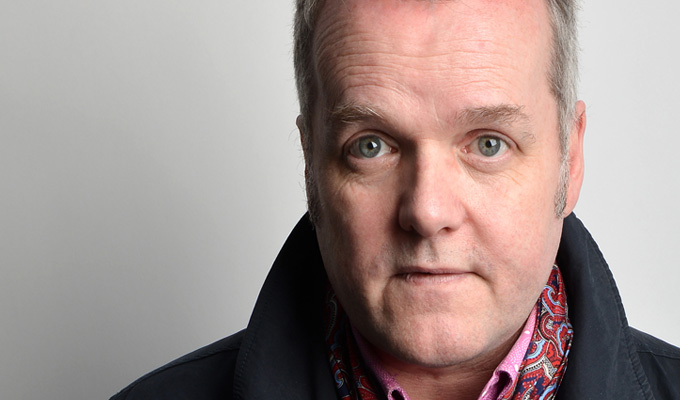 Kevin Day: Standy Uppy
Note: This review is from 2014
These days Kevin Day is more likely to be seen commenting on sport, or in the writers' – sorry 'programme associates' – credits of a top panel show that he is in a comedy club. But he's returned to the Fringe with his first full-length show in 18 years – although it's hard to see why.
That sounds ruder than it ought, as it's a welcome return. But the truth is that there's no apparent compulsion driving his stand-up. Clearly the time his wife Ali (an offstage stalwart and one of Arthur Smith's backing group the Smithereens) spent in hospital this year was a major event for him, but it only makes a minor routine in the show, with a bit concerning his inappropriate interactions with the medical staff.
A strange onstage incident with a ghostly figure is probably the most pivotal section, but considering that the last time I saw a Kevin Day show – a lifetime ago, admittedly – he was opening up about his misguided teenage experiences with the National Front, this is a much less focussed hour of stand-up.
The lowest of low-key acts, Day has an almost glacial delivery, with a long preamble providing a table of contents to come and carrying disclaimers about language and taste and decent issues that might arise.
But just when you fear he may sleepwalk through the hour, he awakens, the spark of personal animosity jump-starting him to passionate action. Through his connections with horse-racing, Day knows Charlie Brooks, Rebekah's husband and co-defendant in the recent phone-hacking trial, in which they were both acquitted. But in Day's eyes he's guilty of at least one thing: being an appalling, stupid man – and the comedian doesn't let up in his masterful character assassination.
Chris Packham, the wildlife presenter, is the victim of a similarly merciless hatchet job, mainly for being humourless, the greatest of sins, while inveterate class-warrior Day necessary doesn't see eye-to-eye with super-posh Tory MP Jacob Rees-Mogg.
Such pointed putdowns sit alongside other material that just seems like a middle-aged man having a bit of a moan about nothing much – was the fact he wasn't allowed to take a phone into a wedding so he couldn't keep track of his beloved Crystal Palace really worthy of dragging up again? And other sections are more about engaging stories that hitting the gags.
The ending suggests Day was striving for a higher meaning; but essentially this is a mixed bag of stand-up, from the smart and impassioned, to the more workmanlike, that is entertaining, but no greater than its parts.
Review date: 5 Aug 2014
Reviewed by: Steve Bennett
Reviewed at: Gilded Balloon Teviot
Recent Reviews
What do you think?