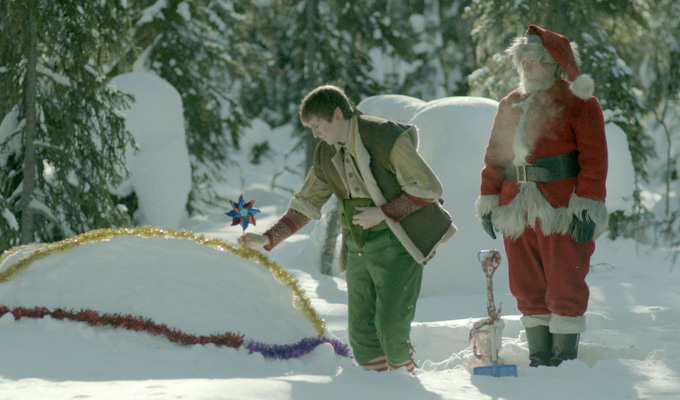 Latitude: Also seen
Note: This review is from 2014
Anthony
This 15-minute BFI-funded film, starring Tim Key and Tom Basden, is a Christmas story with a bleak Scandi-drama mood that's far from festive. The comedy friends respectively play Santa and and an elf, Anthony, who we encounter in the flaming wreckage of their sleigh, crashed somewhere desolate and Arctic. They argue testily about how to survive, and how to deliver at least some gifts so the world's faith in them can be preserved. The tone is tense, awkward and unsettling, but run through with dark humour, courtesy of Basden, who co-wrote with director Jonathan Van Tulleken.
Henning Wehn
German-English rivalry never goes stale, as any number of football chants will attest, which means Henning Wehn is unlikely to even run low on material, even if, after 12 years in London, he has become completely assimilated to our way of life. Nonetheless if leads to amusing Confusions as he's torn between the two identities: should he really rate 'having a laugh' over a job well done? So ingrained are the national stereotypes that Wehn can take time to set up a detailed story, safe that we trust a switcheroo is on the way. Away from discussing the differing national psyches, his Latitude set had less impact, and even he later admitted that opening with a newish routine about meeting Tom Jones was probably not the wisest move, even though it went down reasonably well. But in the finest British tradition, he made a self-deprecating jibe about that choice, and the audience like him a bit more.
Holly Burn
The first half of Holly Burn's set early on Sunday afternoon baffled and terrified the audience in equal measure, as she barked her way through some surreal, allegedly autobiographical details. As she came among those scattered around the cabaret tent, some literally scarpered away seeking some respite from this madwoman. Understandably, perhaps, as this was weird and possibly intimidating. Much funnier was her spoof Latitude initiation ceremony, a joyfully messy game that left her, and her dignity, thoroughly doused.
Phil Wang
Phil Wang performed a set partway between stand-up and sketch in his Saturday-afternoon cabaret slot. A recurring theme, for example, was him imagining Hollywood reboots of children's TV shows – an idea that had diminishing returns following the first brilliant example. Weirdly this was accompanied by him laying down tracks with a loop pedal, that was funnier when he screwed it up – either by accident or design – than when it actually worked. Reggie Watts he ain't. Another set piece involved him reading out the Guardian Weekend interview he'd like to have, allowing him to boast of his iridescent brilliance, ironically of course. There are some good lines here, but the pace seemed slow for stand-up, especially when compared to his own solid routines, such as considering modern masculinity and how it's been hijacked by marketeers.
Gaby Best
Gaby Best has picked up a few recommendations since winning Funny Women a couple of years ago, but her appearance in the sparsely-attended Latitude cabaret tent on Friday afternoon failed to set her apart. She performed in the guise of Marianna, an East European yoga practitioner, the country of origin enabling her to adopt a gratuitous comedy accent and spout a few malapropisms, like 'Facesbook'. Occasionally she showed an enjoyably snidey attitude to the British, or flashed a nice bit of writing, but plenty else was pedestrian – and an audience participation section achieved its aims of seeming uncomfortable and weird; but was less successful in being funny.
Review date: 21 Jul 2014
Reviewed by: Steve Bennett
Recent Reviews
What do you think?