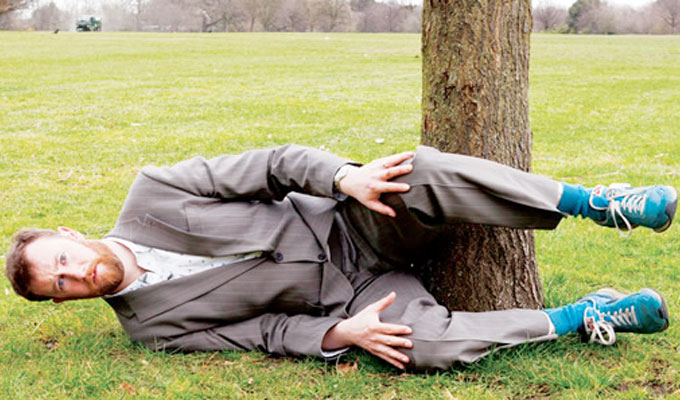 Alex Horne: Lies
Note: This review is from 2013
With its trained ostrich, troupe of aquatic dancers, and the first stand-up to be performed in Aramaic for 2,000 years, Alex Horne's Lies is the winner of this year's Nobel Prize for chemistry.
In fact, it's part gimmick, part an exploration of comedy's relationship with the truth. How many times have you heard a comic vouch for the veracity of the story they're telling, as if that gives more validity than something from their imagination? But when they assert, 'this really happened', it probably didn't.
Horne's show boasts an A-list cast, including Michael Caine, Andre Agassi and Cherie Blair. This is really true, albeit only in pre-recorded form, as he has chopped up the audiobooks of their autobiographies to give them their lines. Partly this is to mock their poor writing, Robin Ince's Book Club-style, but primarily sentences are taken out of context to create an alternative – 'untrue', some might say – narrative.
The way he interacts with these voices, and his own, also on CD, is a sort of modern-day ventriloquism, but without the puppets. He bickers with characters who are only expressing what he is making them say. There's a lot of confused crosstalk, as phrases from the books take on surreal new meanings when isolated and repeated and the celebrities argue and flirt across the speakers, gradually getting increasingly difficult to control.
There's no questioning Horne's commitment to this device – and the dedication and expertise it must have taken to put together – although the novelty wore off for me long before it did for him.
Meanwhile, there are also plenty of witty elements of straightforward stand-up: a smattering of punning one-liners; an amusingly embarrassing story of his ill-prepared appearance on Radio 4's A Good Read, for which he hadn't done the homework; and tales of being an harassed father of three children under four.
Are they true? Well, it's fairly certain Horne didn't used to be an owl impersonator. Are they funny? Yes.
Review date: 7 Aug 2013
Reviewed by: Steve Bennett
Recent Reviews
What do you think?