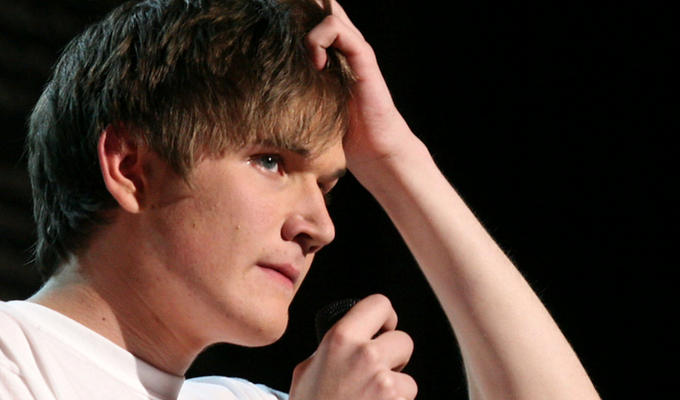 Bo Burnham: What
Note: This review is from 2013
In the hamster wheel powering Bo Burnham's mind must be one exhausted rodent. For his supposedly difficult second show, the prodigiously skilled comic has produced another dense, multi-layered onslaught of music, poetry, physical comedy and stand-up, brimming with ideas and delivered at a head-spinning pace.
He's young (22) – that must be mentioned by comedy decree in every review. That combined with fame, talent, wit and a mix of confidence and apparent emotional openness has made him something of a pin-up among his generation. Certainly this Montreal crowd has been bitten by Burnhamania, deafening shrieks of delight greet his entrance, and a 'We love you Bo!' rings out when he comes out for the universally demanded encore.
'You don't know me,' he fires back. 'You love the idea of me,' citing a psychological condition. He's fiercely, unashamedly smart; barbed and insightful on how celebrity works, yet embracing all the glitzy showmanship of the business to mock the very emptiness of that spectacle and the rampaging, self-serving ego of the performer, hijacking tragedy for laughs or out to prove something to a disapproving father or schoolyard bullies.
That depth, or illusion of depth, recurs, throughout the show, with quips about his empty life, the godless universe (combined with the piano this sometimes puts him in close proximity to Tim Minchin) or his solipsism. But it's far from a clever-clever hour: Burnham likes a knob gag as much as the next man, and frequently puts the 'ass' in gravitas, lest he take any of this too seriously.
He opens with an impressive set-piece, mixing mime, mirth and magic to a backing track that's full of surprises, perpetually wrong-footing the audience. There's a near-arrogant show-offy confidence to this – but with good reason, as it's brilliantly funny – and, besides, any vanity is always undermined with a sharp self-deprecating aside.
There's not a slither of fat in the show. 'Never waste a moment,' he says as he comedy-walks between the keyboard and the stand-up mic, an ethos he lives by. He has the spirit of early Steve Martin, in that he'll do anything for a silly laugh, from a well-honed throwaway to a big set piece, and has the performance skills to pull anything off. And if the quips come to quickly, he hits the slo-mo button for one gag, just for the more easily baffled. (Though he'll have to think of a new joke before he comes to Edinburgh next month, since it's a pun on a word rarely used in Britain).
Songs and poems are sometimes dispensed with in a couplet; though he also has more substantial offerings. He turns into a XXX-rated Dr Seuss with his rhythmically pleasing love sonnet I Fuck Sluts; packs in the sick one-liners with the Sad ballad; regales us with the kids' story Andy the Frog, and indulges a bit of sampling shenanigans that owes a nod to Reggie Watts.
And that's barely scratching the surface of a show that's so rich you'll want to go back for second servings of this comedy feast, to pick up the gags you missed first time around
Review date: 27 Jul 2013
Reviewed by: Steve Bennett
Reviewed at:
Recent Reviews
What do you think?