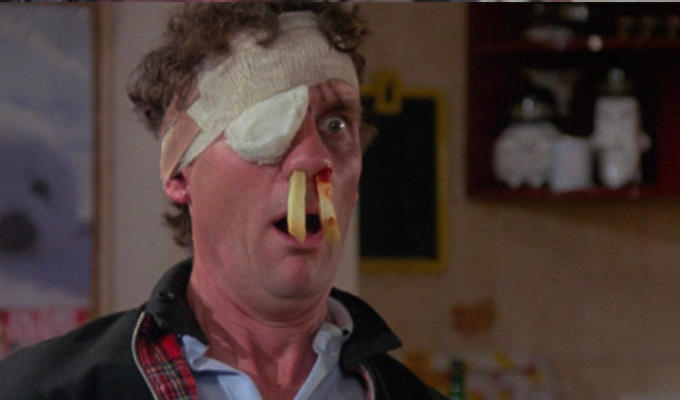 John Cleese: A Fish Called Wanda was so funny it killed a man
John Cleese has how his film A Fish Called Wanda was so funny it killed a man.
Speaking on GB News, the comic said a scene involving co-star Kevin Kline caused a man to laugh himself to death.
'We killed a man,' he said. 'Kevin Kline and I killed a man in Denmark, he was a dentist, he had a huge laugh. A famous laugh. Very popular.
'It was in Aarhus, not a big town but everybody knew him. And he went to see Wanda and he started laughing about two minutes in and never stopped. They carried him out dead, he'd a heart attack.'
The man was actually an audiologist rather than a dentist: 56-year-old Ole Bentze. 'I was shocked to hear him break out laughing like that,' his assistant Einer Randel later told Danish medical journal Medicine Today, as reported by Vanity Fair. 'The next thing I knew, he was dead.'
A coroner's report estimated that Bentzen's heart rate had rocketed to between 250 to 500 beats per minute, triggering a fatal cardiac arrest.
The Monty Python legend made the admission during the latest episode of his new GB News series the Dinosaur Hour, to be screened tomorrow night.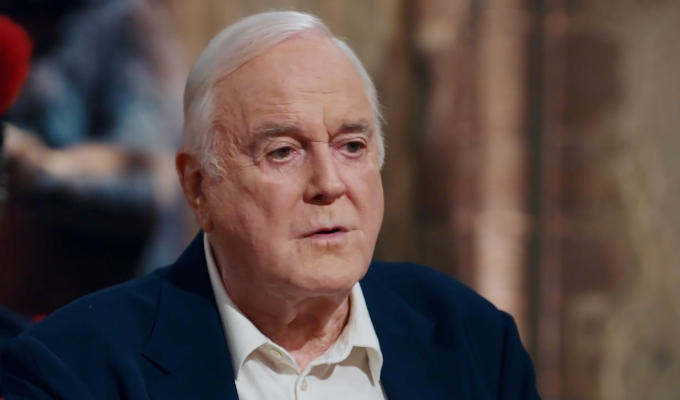 He also spoke about the comfort which humour can bring.
The Fawlty Towers star said: 'I realised about ten years ago that making people laugh is kind of doing more than just making them laugh.
'When you do a Comic Con or something like that and people come up and say, "thanks for making me laugh all these years" it leaves a tear in the eye.
'And women say something different, they say "thanks for helping to form my sense of humour". And it is lovely, beautiful.
'Some others say thank you for helping me through some of the difficult periods. And you suddenly realise that if people laugh, it helps, it's not just entertainment.
'Tom Stoppard, the great playwright, once said a beautiful thing, he said 'the shortest distance between two people is a laugh'. And he's right.'
Cleese opened up during an interview with the American actor and comedian Rob Schneider, a former cast member and writer for Saturday Night Live.
He tells Cleese: 'The beautiful thing is and I'm sure this has happened to you, is when somebody comes up and says, "my mother and I watched that movie and we shared those laughter and I'll never forget that".
Cleese also discussed how Monty Python helped those caught up in the Bosnian War in the 1990s as he discovered when filming in the region later.
He said: 'There were snipers shooting people crossing the street. They were telling me about it and I said "how did you manage?"
'And they told me an extraordinary thing, they said "well, we found an underground car park and we converted it into a cinema and we showed comedy films". I said "really?", they said "yeah", a lot of Monty Python was on because they love it, the Bosnians.
'What was extraordinary was that after they were there and laughed for an hour and a half, they came out and felt better.
'Nothing had changed, it was as awful as it had been when they'd gone in, but they felt better. There's something about laughter that has this wonderful effect of moving people to a sort of more positive part of their minds.'
Cleese is not the only man whose comedy has claimed a life. On March 24, 1975, Alex Mitchell, from King's Lynn died laughing while watching the Lung Fu Kapers episode of The Goodies. After 25 minutes of continuous laughter, he died from heart failure. His widow later sent the team a letter thanking them for making Mitchell's final moments so pleasant .
Thanks for reading. If you find Chortle's coverage of the comedy scene useful or interesting, please consider supporting us with a monthly or one-off ko-fi donation.
Any money you contribute will directly fund more reviews, interviews and features – the sort of in-depth coverage that is increasingly difficult to fund from ever-squeezed advertising income, but which we think the UK's vibrant comedy scene deserves.
The Dinosaur Hour airs on GB News tomorrow at 9pm
Published: 18 Nov 2023