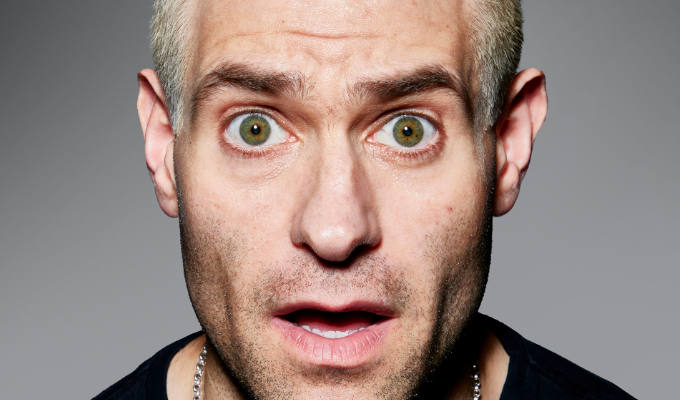 Simon Brodkin: When the KKK grand wizard outed me as Jewish...
Simon Brodkin has spoken about the social media pile-ons he has endured – just because he's Jewish.
The worst incident came after he was 'outed' about his background by David Duke, the former grand wizard of the Ku Klux Klan.
The white supremacist turned on Brodkin after the comic pranked Donald Trump at his Scottish golf club, Turnberry, and rolled dozens of Swastika-emblazoned golf balls around.
Duke tweeted a link to a story about the stunt, putting Brodkin's name inside three brackets – an antisemitic symbol used to highlight the names of Jewish people. After that, several of Duke's followers suggested he should be 'gassed' over the incident.
'The pile-on I got after that was insane. It was absolutely mad,' he told the Podcast Against Antisemitism.
But Brodkin – who had family members who fled Nazi Germany – said he didn't feel the full force of the hatred as he was still performing in character as Lee Nelson and others.
He said: 'I felt much more detached from it. I hadn't made that move into talking about myself so it was sort of one step removed.
'Since I've done stuff on stage as myself, everything feels more personal which is great because you feel like you're really pouring your heart out in that emotional connection you get, but then if you get some abuse afterward it feels more about you.'
He said he got more abuse when he spoke about Jeremy Corbyn on stage, reckoning 'I couldn't talk about antisemitism, and being a Jew today, without mentioning him and what I thought of him.'
But at one gig he was heckled by a woman who cornered him afterwards, but said: 'When she got home, she went on Twitter…it was a pile-on.'
'The Corbynistas have quite a powerful Twitter following, quite a powerful Twitter movement and once one of them jumps on you the others are quick to follow,'
'I'm used to antisemitic pile-ons.'
• Listen to the Podcast Against Antisemitism, produced by Campaign Against Antisemitism, here. Previous guests have included David Baddiel, Robert Rinder and Eddie Marsan.
Published: 27 Jun 2022
Recent Punching Up
What do you think?