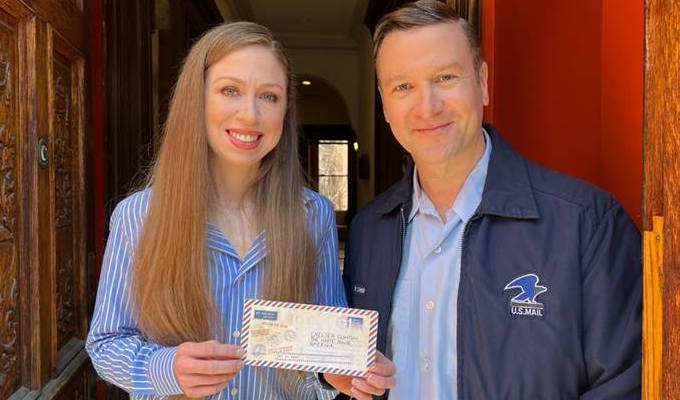 Chelsea Clinton makes Derry Girls cameo
Chelsea Clinton made a surprise guest appearance in last night's final episode of Derry Girls.
The former First Daughter was seen finally receiving a letter that Erin and Orla wrote to her in the series 2 finale, which revolved around her father's historic Presidential visit to Northern Ireland in 1995.
Running in an extended double-length hour-long slot, the episode also depicted the death of a major character – so spoilers ahead for that storyline.
But the last scene of the Channel 4 comedy was set in modern-day New York and showed Chelsea finally receiving the correspondence 27 years on, after it got lost in the US mail.
Praising the show's writer, Clinton said: 'Thanks to Lisa McGee's incredible talent, and that of the wonderful cast and crew of Derry Girls, people around the world have been able to better understand and relate to a hugely significant and important period of history in Northern Ireland and for the world.
'Like many, I am a big fan of the series, and I was honoured to be able to appear in the very special final episode. I hope people enjoy watching it as much as I enjoyed being a part of it.'
Fatboy Slim also made a cameo in the episode as the girls tried to get into a Halloween ball he was DJig.
After getting kicked out of the party, the gag learn that Claire's dad Sean, played by David Ireland, has suffered an aneurysm and rush to his bedside, still in their fancy dress costumes. But they are too late.
At a Q&A session about the episode, reported by Hello! magazine, McGee said: 'The reason why I wanted to do this story is because it happened to my group of friends. My friend's dad died when we were around that age suddenly and it was a shock.
'The thing that really struck me was that we did grow up in this place where there was a lot of unpredictable stuff happening - you worried about a lot of violence - and this was a thing that could happen to anybody at any point - a natural cause thing. I was like 'Oh, God, no one's life's predictable, this could happen to anyone.'"
Published: 19 May 2022
Recent Punching Up
What do you think?