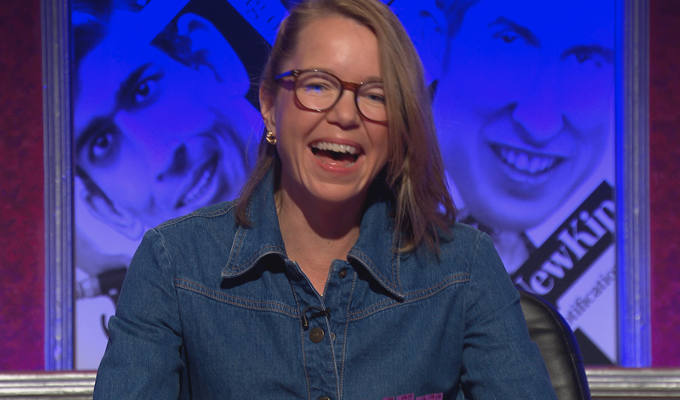 'They closed all the roads to announce a law to stop people disrupting traffic!'
Panelists on tonight'sHave I Got News For You mock the Queen's Speech, Beergate and the Wagatha Christie court case, among others.
Motherland and Line of Duty star Anna Maxwell Martin will make her first appearance on the show as host, with comedian Chris McCausland and presenter Steph McGovern joining regular team captains Ian Hislop and Paul Merton.
Speaking of Prince Charles filling in for his mother at the State Opening of Parliament, Hislop jokes: 'Prince Charles got his big moment. But it wasn't a big moment, because we had to recognise the Queen is still there, so they had a crown on a chair.
'After a bit, even I was thinking "we're watching a hat on a seat'. I quite like flummery, but I just thought this is quite silly. Someone said it's a bit like the tub of lard on this show.'
McCausland added: 'It was a speech in the middle of a cost of living crisis, that didn't mention anything about helping people afford to live, or eat.
'The speech was given by a man sat on a throne, next to a golden hat that cost more than Chelsea Football Club. On behalf of a government that's run by a man who spent £200k decorating his flat and another bloke who's married to a billionaire.'
He also quipped: 'Did you like the way that they closed all the roads to announce a law to stop people disrupting traffic?'
Also on the agenda was Labour leader Sir Keir Starmer's announcement that he would resign if finde for breaching lockdown rules..
Hislop said: 'Keir Starmer must be fairly confident that he's not going to be issued with a fine, because he said "I'll resign".
'The Prime Minister, when confronted with the possibility of a fine, said "I wasn't there. I didn't do it. I have no memory. There'll be an inquiry. We'll get the police to look later." Look at the two different approaches… I'm just saying.'
McCausland added: 'My problem with the parties wasn't really the parties. It's just that no one ever explains what the party games were. They just say "there was wine, there was cheese, there were party games".
'What do they at Conservative Christmas parties? Apart from "Avoid Matt Hancock at the mistletoe"… Or pass the parcel – but every time it lands on you, you have to add another layer of wrapping… because the truth should never get out."'
And as the panel were forced to discuss the latest Brexit shenanigans, McCausland asked: 'When will it ever end? It's 2022!
'It's like one of those 80s horror franchises that keeps on coming back, but each time it's more boring. You thought Brexit was boring, well this time…it's Brexit… with fishing quotas!'
• Have I Got News For You continues on BBC One tonight at 9pm.
Published: 13 May 2022