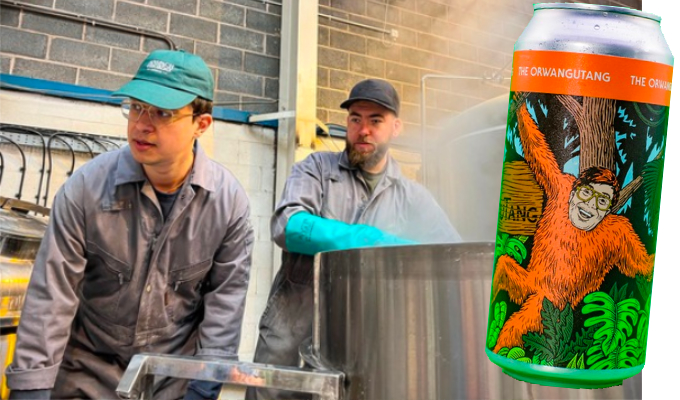 Phil Wang launches a craft beer
Wondering where you can see Phil Wang next? How about on the side of a craft beer can…
The comic's face has been superimposed on a cartoon ape for the zesty new OrWanguTang ale.
He joined forced with London brewery Anspach & Hobday to launch the beer to help raise money for the Orangutan Foundation. The great apes are now only found in parts of Sumatra and Borneo, the island where Wang's family hail from.
Fifty pence from each £3.50 can goes to the charity, with the proceeds of a four pack enough to sponsor an acre of crucial forest habitat in the Central Kalimantan region of Borneo.
Wang – pictured above on a brewery visit to watch the beer being made – said: 'As a son of Sabah, the natural beauty of Borneo and our furry orange friends who call it home have always held a special place in my heart.
'The Orangutan Foundation has been working for 30 years to protect them and their habitat. I'm thrilled to have my face on a can of lovely beer in support of them.'
Ashley Leiman of the Orangutan Foundation added: 'It's reassuring for us to know that there are people out there, who live far from the tropics, who are as passionate as we are about keeping forests standing for orangutans.'
The beer – described as 'a delicately salty Gose infused with orange zest and mandarin puree' is available here.
And Wang will launch the ale with a Q&A event at The Arch House, Anspach & Hobday's brewery and taproom in Bermondsey, on May 25. Tickets are available here.
Published: 25 Apr 2022
Recent Punching Up
What do you think?