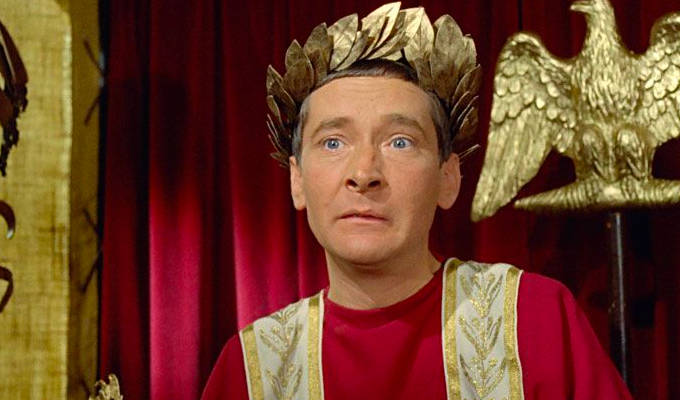 Own a tunic that will live in infamy...
A tunic Kenneth Williams wore to play Julius Caesar in Carry On Cleo is going under the hammer.
He wore the red costume for the opening scene of the 1964 comedy when he arrives to conquer a rainy, uncivilised island called Britain.
Sneezing, he sits with his bare legs in a bowl of warm water, having caught a cold in 'this damp, depressing place'. Adjusting his crown of gilt laurels, he complains: '...even me laurels have wilted. When I left Rome they were positively rigid!'.
The film was made at Pinewood Studios, Buckinghamshire, using many of the props and costumes from the Elizabeth Taylor and Richard Burton epic filmed there four years earlier.
In the film Williams uttered the classic line 'Infamy, Infamy- they've all got it in for me!' – voted one of the best movie gags of all time – although he wore a blue tunic for that scene.
The red tunic is being sold by Kerry Taylor Auctions in London on December 7, with an estimate of £1,000 to £1,500
Its full description reveals it has a 36in chest and labelled 'M. Berman Ltd., 18 Irving St, Leicester Sq., W.C.2' and with 'K. Williams No1' handwritten in ink.
It is made of dark red wool-crêpe with a wide band of ivory wool down each side, embroidered with gold ribbon and with a concealed metal zipper at the back.
This summer, the same auction house sold the bikini worn by Dame Barbara Windsor in Carry On Camping – at least until the top pinged off during a rigorous exercise session– for £9,500. That had an estimate of between £800 and £1,200 before bidding started,
Published: 14 Nov 2021