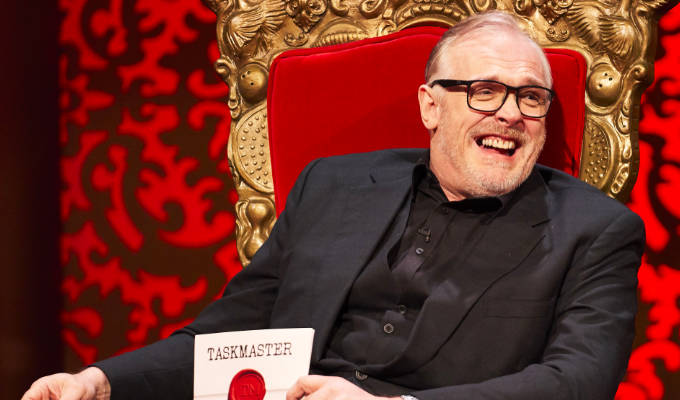 What the f***'s wrong with Taskmaster?
Producers of Taskmaster have compiled a special video after sparking a row about swearing on TV… and why there isn't enough of it.
Viewers of the opening episode of series 12 on Thursday night were taken aback by to find that all the bad language had been bleeped out, even though it aired after the 9pm watershed.
Alex Horne, Greg Davies and members of the production crew took to Twitter to explain that Channel 4 had mistakenly aired a clean edit designed for repeats in earlier timeslots and for family catch-up viewing on All4.
At the time, director Andy Devonshire joked: 'All the missing swears will all be available as a download. Probably.'
And true to his word, the missing expletives have been compiled into a video and released on social media:
Here are the swears you missed last night. Normal service resumes next week #Taskmaster pic.twitter.com/4NWxPInhZw

— Taskmaster (@taskmaster) September 24, 2021
At the time of the broadcast blunder, Davies said: 'So sorry the bleeped version of Taskmaster got accidentally played out tonight but I'm so delighted to see so many people livid about a lack of bad language. Normal service resumed next week.'
And series creator Horne tweeted: 'Ah, just come off stage & have been told many times that the wrong versioning Taskmaster was played out. Really sorry… Normal service resumed next week. Thanks for understanding.'
Among those who were disappointed with the lack of bad language was Jo Paterson, who tweeted: "Oi, @AlexHorne !! What the f**king f**k is the b*st*rd point of bleeping all the tw*ting swearing from #Taskmaster ?!?! Riddle me that, you ***t!"
The sweary version of the show – featuring new competitors Alan Davies, Desiree Burch, Guz Khan, Morgana Robinson and Victoria Coren Mitchell – is now available on All4.
Published: 24 Sep 2021
What do you think?