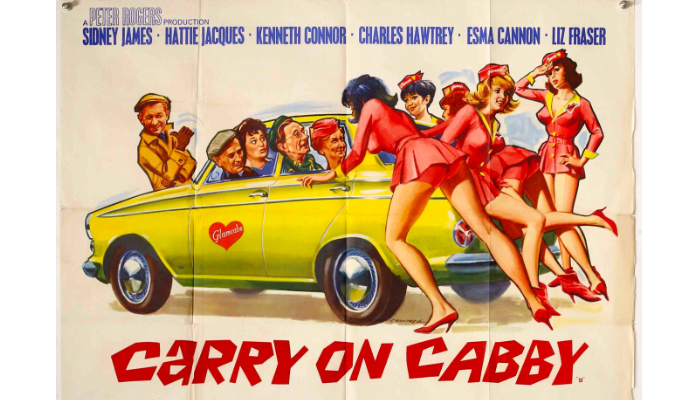 Carry On bidding...
A collection of more than 20 vintage posters from the Carry On… films has netted almost £10,000.
Nearly all the items sold by Ewbank's auctioneers in Woking, Surrey, are the large 'British quad' posters, measuring 30 x 40 inches, that would have been used on cinema billboards.
A poster for Carry On Cabby, the 1963 outing with the cast led by Sid James, fetched £1,700 while 1965's Carry On Cowboy made £1,400.
Auctioneer Alastair McCrea saod: 'The Carry On films would not have been made today, with their seaside postcard humour – about as un-PC as you can get – but they secured a place in the nation's hearts because they were so tongue in cheek that everyone knew they did not set out to offend.
'Many of the regular cast, from Kenneth Williams, Leslie Phillips and Charles Hawtrey to Hattie Jacques, Joan Sims and Barbara Windsor, became national treasures, as did the franchise itself, so a sale of its vintage posters was always going to attract a large fan base.
'However, the dynamic and very colourful poster designs, featuring cast members and great graphics, are works of art in their own right.'
The Carry On franchise started in 1958 with Carry On Sergeant, starring a young Bob Monkhouse as squaddie who receives his call-up papers for National Service during his wedding breakfast. William Hartnell, who five years later would become the first Dr Who, co-starred as a martinet army sergeant. A total of 30 films were made in the next 20 years, with Carry On Columbus added to the canon in 1992.
Published: 1 Sep 2021
Recent Punching Up
What do you think?