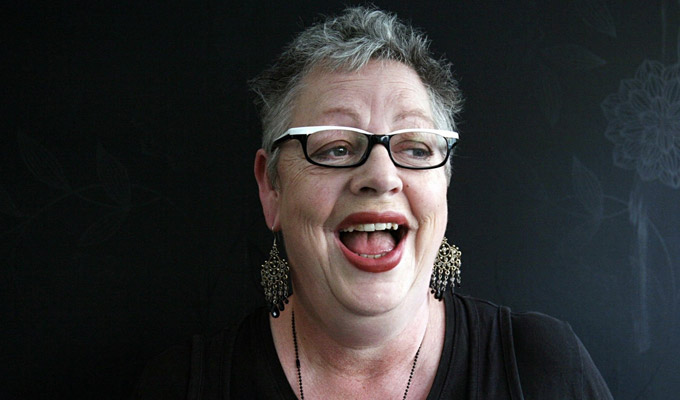 Newsflash! Comedians sometimes tell fibs
The Sun has shown that it believes everything a comedian says is the literal truth.
Today the tabloid claims that: 'Comic Jo Brand appeared on stage at Latitude Festival in Suffolk this weekend after having taken magic mushrooms and drank [sic] too much booze.'
That fake news is based on a comment the stand-up made in obvious jest on stage at the comedy arena on Sunday afternoon.
And there may have been some clue that she was being a little flippant, since she also claimed to have been approached to appear on Love Island.
'I turned Love Island down,' she said. 'Look at me, I'm a 64-year-old lady and I had brain fog in the menopause and during Covid it got worse. And also I have drunk quite a lot of mushrooms and I am quite pissed.'
Simon Boyle, who edits the paper's Bizarre showbiz column, solemnly reports that magic mushrooms are a 'Class A drug and possession can lead to up to seven years' jail, an unlimited fine or both' and that Latitude itself reminds all festival-goers that it is illegal to take drugs.
Boyle also sneered that this was 'an explanation as to why she isn't that funny'.
In case it needs saying, Brand told Chortle: 'I can confirm yes I was joking. Although I did have some fried mushrooms for breakfast.'
The Sun has a long history of antipathy towards Brand. When the comic got married in 1997, the paper ran with the headline: 'Here comes the bride, all fat and wide', which she said was ' hideous to read at a great romantic moment'.
And in 2019 they ran daily stories of outrage demanding the BBC sack 'the leftie star' for her joke about protesters who hurled milkshake at Brexit party leader Nigel Farage.
Speaking on Radio 4 panel show Heresy, she had joked: 'I'm thinking why bother with milkshakes when you could get battery acid?'
She later apologised for what she called a 'crass and ill-judged joke that might upset people.'
At Latitude, she said: 'I am getting on a bit and I'm feeling that I'm going to get cancelled quite soon anyway.
'I have quite a big gob on me and I can't stop myself saying awful things, particularly about Nigel Farage…'
She added: 'I could beat Nigel Farage in a fist fight.'
Note to Sun reporters: she was probably joking. But maybe expecting the truth from the tabloid is as naive as thinking comedians are always being 100 per cent honest…
If only they held anything the Prime Minister said to such high standards of veracity.
Published: 27 Jul 2021
Recent Punching Up
What do you think?