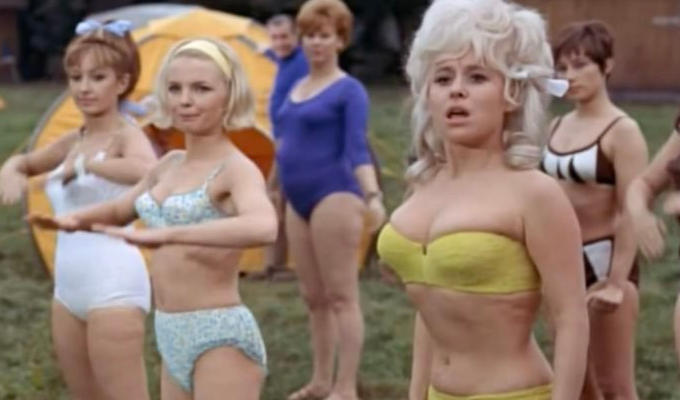 Babs' bikini is going, going, gone!
The iconic bikini worn – at least temporarily – by Barbara Windsor in Carry On Camping – is to be auctioned off, after being discovered in a dustbin.
The top still has the hole where a fishing hook was attached, allowing it to appear to spring off in the most memorable scene from the 1969 comedy.
It was rescued from a dustbin by a member of staff during a stock clearance at London costume company Bermans & Nathans in about 1990.
According to Kerry Taylor Auctions, which is selling the swimwear later this month, the company was throwing out unwanted stock to free up storage space.
The anonymous vendor, who worked there at the time, said: 'Staff were permitted to take anything they wanted or that they could make use of'.
The bikini was rescued from a dustbin and discovery of the hole and remnants of clear fishing twine, suggested it was the one worn in the film
Kerry Taylor Auctions adds: 'The wardrobe department would have commissioned duplicate bikinis for the film, but this is the only one known to have survived. Although it is unlabelled, the exterior towelling fabric, colour and style matches the one shown on screen.'
The company has put an estimate of £800 to £1,500 on the bikini.
In a 2012 interview, Dame Barbara recalled filming the scene, saying: 'It was that terrible scene – freezing cold. All those summer films were made in the winter…they painted the mud green and placed leaves on the trees. They wouldn't go on location
'I was so terrified when I saw the script – I thought "Oh my god!" I talked to the wardrobe lady and it was decided they would use a hook attached to a fishing line and rod. And then I realised – you weren't allowed to show any boobs… so they got the fishing rod … and an old man, well into his 70s, who was retiring the next day. He had to pull it – but it didn't work, it didn't come off. I fell into the mud. [Director Gerald Thomas said] "Pick her up, rub her down, get the mud off. We will have to go again!"
'I did it the second time, it all went well, but then Gerald said "Oh we'll have to do it again, you showed your right boob. The censor won't pass it."
' So, I did it three times altogether and the third one was perfect…The censor said, "Oh I don't think Miss Windsor's right boob is going to corrupt the nation" – so that is how I became famous.'
The chartreuse bikini, with a 30-inch bust, goes under the hammer at the London-based auction house on June 15, with the proceeds going to the Alzheimer's Society. Dame Barbara died with the disease last year, at the age of 83.
Published: 4 Jun 2021
What do you think?