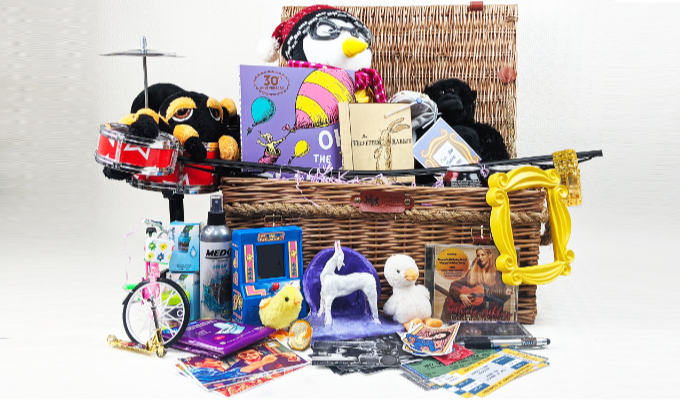 The ultimate Friends gift?
Could this hamper BE any more timely?
In what could be the ultimate gift for Friends fans, this collection contains two dozen items inspired by the hit sitcom.
And it will be released on Thursday, the same day the reunion special airs on Sky.
Regency Hampers, which has put together the collection, says: 'We've gone through all ten series to select the most iconic gifts given by Phoebe, Monica, Rachel, Joey, Ross & Chandler - and put them all together to make the ultimate present for any serious Friends fan. Because let's face it most people have a Central Perk mug already.'
And they boast that it's the only gift hamper in the world to include a windscreen wiper, a tarantula and Hootie & The Blowfish tickets....
Here's a full list of what's included in the £80 package, available here:
The brooch that made Rachel realise Ross loves her
The wiper blades, new car smell spray, toilet seat covers, two cans of soda and condoms that Joey and Chandler gifted the gang on Christmas
Pat the Dog - ceramic dog statue - Ross' gift for Joey
Chick Jr. and Duck Jr. - Joey's gift for Chandler
Phoebe's Holiday song - Phoebe's gift for the gang
Chandler's romantic mixtape - Chandler's Valentines gift for Monica
Phoebe's sock bunnies - Monica's Valentine's gift for Chandler
The bicycle - Ross' gift for Phoebe
The tarantula - Phoebe's gift for Joey to annoy Rachel
The drum kit - Phoebe's gift for Joey to scare Rachel
The giant stuffed gorilla - Joey and Chandlers gift for baby Emma
The Gladys painting - Phoebe's gift for Monica
A miniature scooter
Hootie and the Blowfish concert tickets - the gang's gift for Ross
Why Don't You Like Me? tickets - Joey's gift for the gang
New York Rangers tickets
New York Knicks tickets
The Velveteen Rabbit - Joey/Chandler's gift for Kathy
The pen that tells time - Joey's gift for Kathy
Phoebe's song for Emma - Phoebe's gift for Emma
Joey's dramatic reading for Emma - Joey's gift for Emma
The water purifier - Monica's gift for Chandler
Oh, The Places You'll Go - Joey's gift for Rachel – to get you through some tough times
New Hugsie – Joey's gift for Emma
Published: 25 May 2021
Recent Punching Up
What do you think?