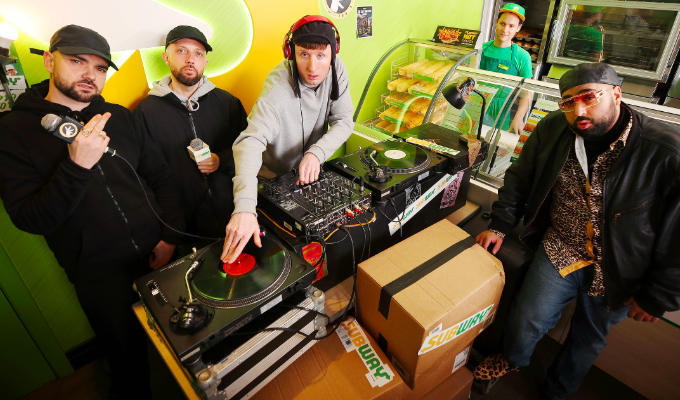 Kurupt FM take over Subway
Kurupt FM are taking over Subway's in-store radio network next week.
The stars of People Just Do Nothing will also be releasing an online mini-series about the takeover as part of their sponsorship tie-up
A teaser episode shows how band manager and eager entrepreneur Chabuddy G (Asim Chaudhry) managed to strike a deal with the sandwich giant, expanding Kurupt's audience beyond a few streets in Brentford and into 2,200 restaurants.
He said: 'It's very different doing a set in Subway because normally when we play raves we're used to the smells of BO and smoke machines. This one is more like pickles and honey mustard sauce."
The shows the crew make for Subway will be available on the store's YouTube channel, with bonus content dropping on TikTok, Instagram and Twitter.
News of the tie-up follows the release of the trailer for their movie Big In Japan yesterday, ahead of the film's cinema release in August.
And they are soon to release their debut original single Summertime, with the help of Craig David, in advance of their first album The Greatest Hits (Part 1),
In a statement, the rest of the Kurupt FM boys - MC Grindah, Beats and DJ Steves - said: 'When Chabuddy said he'd got us the gig initially we were just hyped about the free Subs, but when he said we'd be broadcasting, not just to the Subway in Acton, but all of the Subway's in the UK and Ireland we were buzzing.'
In real life they are Allan 'Seapa' Mustafa, Hugo Chegwin and Steve Stamp.
Published: 13 May 2021
Recent Punching Up
What do you think?