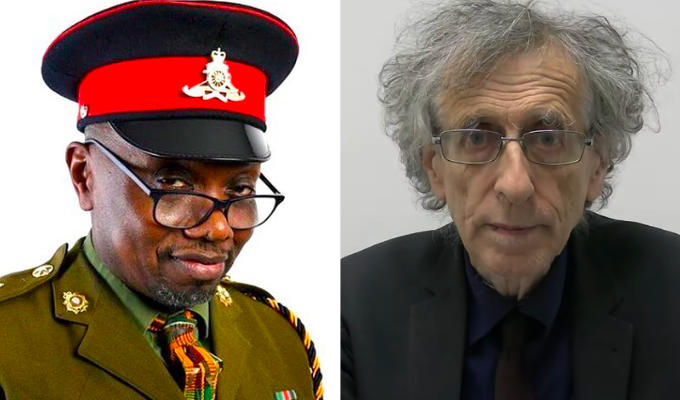 One's a joke political character… the other is President Obonjo of the Lafta Republic
With poll numbers lower than Count Binface, Piers Corbyn in unlikely to succeed in his bid to become London mayor tomorrow.
But whatever the outcome, he is guaranteed a face-to-face meeting with a world leader. Sort of.
For the climate change denying, anti-vaxxer brother of the former Labour leader has landed a booking at the Monkey Business Comedy Club where he will debate with President Obonjo, the self-styled militaristic leader of the Lafta Republic.
Corbyn has had several run-ins with the law at lockdown protests, where he has branded Covid a hoax, He has distributed anti-vaccination leaflets carrying images of Auschwitz and claiming the jab contains 'nanochips which can electronically track recipients'.
Now he is to help launch a new Monday-night debate format at the Monkey Business club in Camden, North London, by going head-to-head with President Obonjo, the comedy dictator character created by Benjamin Bello.
Club promoter Martin Besserman, who will chair the debate, is a regular at Speaker's Corner, where he encountered Corbyn on his campaign trail.
Besserman said his new night wouldn't necessarily be comic, explaining that the idea was to have 'two comedians or public figures debating with each other events in the news - we aim to have a balanced audience who will be able to challenge the floor or ask questions.
'Piers will be the serious one on the night, but the contrast debating with dictator President Obonjo should be very interesting.'
In a Savanta ComRes poll last month, just two of the 770 Londoners surveyed said they would vote for Corbyn, compared to eight for Count Binface, the alter-ego of comedy writer and performer Jon Harvey. Binface's manifesto pledges include the reintroduction of Ceefax to all homes within the M25 and for the hand dryer in the gents' toilets at The Crown & Treaty, Uxbridge, to be moved to a more sensible position.
The Corbyn/Obonjo debate will take place at 67 Pizza & Lounge Bar on May 24. Tickets are available here.
Published: 5 May 2021
Recent Punching Up
What do you think?