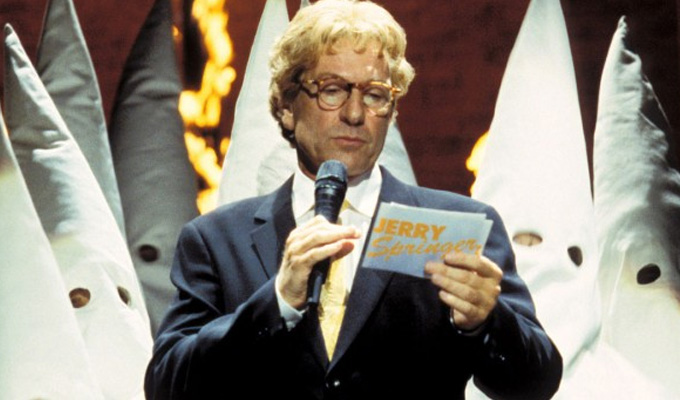 Jerry Springer: The Opera loses the title it never wanted
After 15 years, Jerry Springer: The Opera has lost its title as the most complained-about BBC programming ever.
A deluge of gripes over the corporation's blanket coverage of Prince Philip's death has dwarfed the orchestrated campaign against Stewart Lee and Richard Thomas's comedy musical
At least 110,994 people have complained after the BBC ditched all its programming on Friday night across TV and radio in favour of wall-to-wall coverage of the Duke of Edinburgh's life.
It may be ironic, or a sign of changing taste, that the complaints revolve around the broadcaster being too deferential, given the complaints about Jerry Springer: The Opera were quite the opposite.
After the controversial stage show was aired on BBC Two in 2005, the BBC received 63,000 objections, following a zealous campaign from Christian Voice, angry over its irreverent depiction of Jesus and prodigious swearing.
Its head, Stephen Green, tried to bring blasphemy charges against the BBC, while several corporation executives received death threats at home, requiring them to be protected by security guards.
Some protesters complained the show contained 8,000 obscenities – which was assumed to be calculated by multiplying the number of swear words by the number of people in the chorus singing them.
Since its moment in the media spotlight, Christian Voice has slumped into irrelevance, and now has just 635 followers on Twitter.
Published: 13 Apr 2021
Recent Punching Up
What do you think?