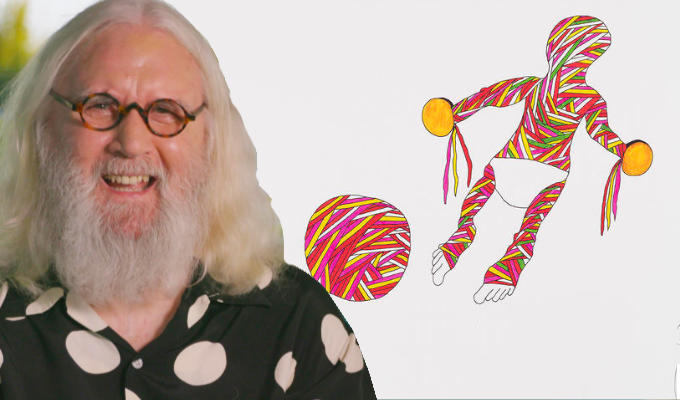 Billy Connolly: I couldn't help but borrow from my hero
Billy Connolly has named one of his artworks in tribute to Bob Dylan - even though he didn't really want to.
The comic has just released a series of six drawings, including one of a baby holding tambourines.
He said: 'I didn't want to use Tambourine Man [as the title] because of the Bob Dylan pictures of what a tambourine man is… I didn't want to dive in on his title because he's a hero of mine and I love him.
'But I decided that once you've got "tambourine", his song is so huge you're stuck with the "man" as well.'
It's not the only title of his art to be inspired by music, with another entitled It's Raining On The Moon.
Connolly, 78, said: 'I heard it in a song. I don't know who it was. It was a woman singing it on the radio in London and I thought it was profound. I hope it's not the name of the song because she'll think I've stolen it. It was just a lyric and I thought it was a great description of loneliness and abandonment.'
Raining On The Moon is the title of a 2001 jazz track by the William Parker's Quartet, with vocals from Leena Conquest, as well as the title of a 2004 song by male American singer-songwriter Jude Cole
Another of the Big Yin's artwork entitled, Wearing The Ring, shows a figure trying to lift a ring-shaped weight, which the comic says is 'about the torture I have undergone in gymnasiums'.
The others in the series of artworks, Born On A Rainy Day, are entitled Brahmarama Llama, Go Fly A Kite and Zebra crossing.
The hand-signed limited edition drawings will go on sale from Sunday through Birmingham-based gallery Castle Fine Art.
Published: 3 Mar 2021
What do you think?